Light mag. 4.7 earthquake - 12km E of Tecpan de Galeana, Mexico on Saturday, 10 May 2014
Local time at epicenter:
Saturday, May 10, 2014 12:26:31
Magnitude: 4.7
Depth: 7.8 km
Epicenter latitude / longitude: 17.2515°N / 100.5626°W
(
Mexico
)
Nearest volcano:
Nevado de Toluca
(223 km)
Primary data source:
USGS
Estimated released energy: 7.1 x 10
11
joules (197 megawatt hours, equivalent to 169 tons of TNT) [
learn more
]
Date & time: Saturday, 10 May 2014 17:26 UTC
Data for same earthquake as reported from other agencies
Time
Mag. / Depth
Location
Source
Sat, 10 May 2014
Sat, 10 May 17:26 UTC
M 4.8 / 10 km
Guerrero, Mexico
GFZ
Sat, 10 May 17:26 UTC
M 4.7 / 10 km
GUERRERO, MEXICO
EMSC
Sat, 10 May 17:26 UTC
M 4.9 / 20 km
48 km al SUROESTE de TECPAN, GRO
SSN
"I felt it" reports:
More on VolcanoDiscovery:
Green Volcanoes
: The Azores, a cluster of volcanic islands in the Atlantic Ocean, are famous for their very pleasant climate, breathtaking green and unspoiled landscapes and nature. They also have deep history and you'll find warm hospitality. Our new tour, guided by a photographer and volcanologist, will lead to five islands: Sao Miguel, Faial, Terceira, Pico and Flores - each with its distinct character to discover.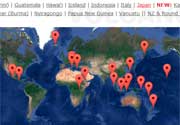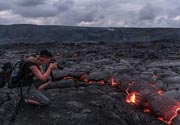 1-3 day excursions
: If you're interested in volcanoes, there are a number of excursions you should not miss if you're in the area: hike to the craters of Stromboli volcano, climb Etna volcano, get to know the unique volcanic history of Santorini - some examples of shorter (1-3 days) tours and excursions we offer.