Mag. 1.9 quake - Badakhshan, 57 km northwest of Khorugh, Gorno-Badakhshan, Tajikistan, on Thursday, May 26, 2022 10:29 pm (GMT +4:30)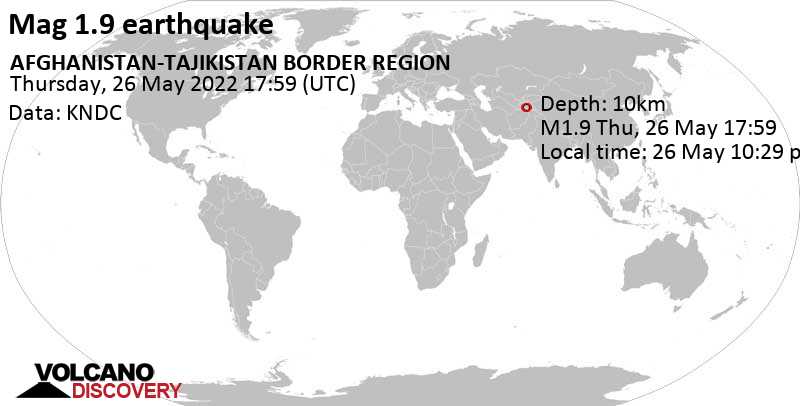 Minor magnitude 1.9 earthquake at 10 km depth
26 May 19:06 UTC: First to report: KNDC after 1 hour and 7 minutes.
Earthquake details
Date & time
May 26, 2022 17:59:26 UTC
Local time

at epicenter

Thursday, May 26, 2022 10:29 pm (GMT +4:30)
Status
Confirmed
Magnitude
1.9
Depth
10.0 km
Epicenter

latitude / longitude

37.92°N / 71.2°E Shighnan, Badakhshan, Tajikistan
Antipode
37.92°S / 108.8°W
Shaking

intensity

Very weak shaking
Felt
0 reports
Primary data source
KNDC (Kazakhstan National Data Center)
Estimated

seismic

energy

released

4.5 x 107 joules (12.4 kilowatt hours) | about seismic energy
Nearby places
Notes:
(*) Shaking intensity according to the Modified Mercalli Intensity Scale (MMI) and estimated using seismic models.
Compare Quake Data
Data for the same earthquake as reported by different agencies
The more agencies report about the same quake and post similar data, the more confidence you can have in the data. It takes normally up to a few hours until earthquake parameters are calculated with near-optimum precision.
Mag
Depth
Time GMT
Epicenter
Agency
1.9
10 km (6.2 mi)

(*)

2022-05-26

17:59:26
AFGHANISTAN-TAJIKISTAN BORDER REGION
KNDC (Kazakhstan National Data Center)
Notes:
(*) A depth given as 10 km often means that the the depth of the quake could not determined with sufficient accuracy.
Seismograms
Seismic station: Batken, Kyrgyzstan (BTK/KR network)
| Distance from quake: 240 km / 149 mi |
Show on map
|
Station Info
Seismogram (vertical component) around time of quake. Thin dotted red line indicates time of quake. Seismic waves arrive some time later, depending on distance. Bandpass filter applied: 0.5-10.0 Hz. Source:
IRIS Buffer of Uniform Data (BUD) webtool
User-reports for this quake
At magnitude 1.9, such a quake wouldn't normally be felt by people, but could be recorded instrumentally.