Weak mag. 2.7 earthquake - 103 km north of Iquique, Tarapaca, Chile, on Thursday, Jun 23, 2022 at 5:06 am (GMT -4) -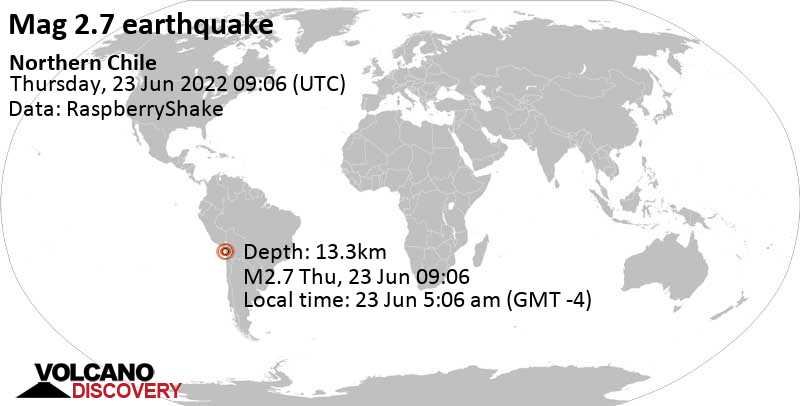 Weak magnitude 2.7 earthquake at 13 km depth
23 Jun 09:12 UTC: First to report: RaspberryShake after 5 minutes.
Earthquake details
Date & time
Jun 23, 2022 09:06:51 UTC -
Local time

at epicenter

Thursday, Jun 23, 2022 at 5:06 am (GMT -4)
Status
Confirmed
Magnitude
2.7
Depth
13.3 km
Epicenter

latitude / longitude

19.31827°S / 69.88608°W (Provincia del Tamarugal, Tarapaca, Chile)
Antipode
19.318°N / 110.114°E
Shaking

intensity

Very weak shaking
Felt
0 reports
Primary data source
RaspberryShake (RaspberryShake)
Nearest volcano
Isluga (112 km / 70 mi)
Nearby

towns and cities

76 km (47 mi) N of Huara (Tarapacá) (pop: 1,080) |

Show on map

| Quakes nearby
78 km (48 mi) NNW of Tarapaca (Tarapacá) (pop: 121) |

Show on map

| Quakes nearby
103 km (64 mi) NNE of Iquique (Tarapacá) (pop: 227,500) |

Show on map

| Quakes nearby
103 km (64 mi) SSE of Arica (Arica y Parinacota) (pop: 186,000) |

Show on map

| Quakes nearby
Weather at epicenter

at time of quake

Broken Clouds 10.1°C (50 F), humidity: 53%, wind: 1 m/s (3 kts) from SW
Estimated

seismic

energy

released

7.1 x 108 joules (197 kilowatt hours, equivalent to 0.169 tons of TNT) | about seismic energy
Data for the same earthquake reported by different agencies
Info: The more agencies report about the same quake and post similar data, the more confidence you can have in the data. It takes normally up to a few hours until earthquake parameters are calculated with near-optimum precision.
User reports for this quake
At magnitude 2.7, this quake might have been felt very close to the epicenter and under calm conditions.
There are no user reports for this quake.
Try our free app!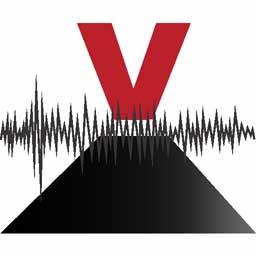 Earlier earthquakes in the same area since 1900
Date and time GMT
Mag
Depth
Distance
Location
Details
Apr 1, 2014 23:46


8 years ago

8.2


20 km
104km / 65mi
South Pacific Ocean, 94 km NW of Iquique, Tarapaca, Chile
More
Jun 13, 2005 22:44


17 years ago

7.8


116 km
104km / 64mi
103 km E of Iquique, Tarapaca, Chile
More
Apr 3, 2014 02:43


8 years ago

7.6


32 km
148km / 92mi
South Pacific Ocean, 50 km SW of Iquique, Tarapaca, Chile
More
Jul 7, 2001 09:38


21 years ago

7.6


33 km
304km / 189mi
79 km W of Ilo, Departamento de Moquegua, Peru
More
Aug 8, 1987 15:48


35 years ago

7.2


70 km
35km / 22mi
69 km SE of Arica, Region de Arica y Parinacota, Chile
More
Feb 23, 1933 08:09


89 years ago

7.2


35 km
134km / 84mi
32 km S of Iquique, Tarapaca, Chile
More
Jun 14, 1959 00:12


63 years ago

7.1


109 km
162km / 100mi
136 km E of Iquique, Tarapaca, Chile
More
Mar 16, 2014 21:17


8 years ago

7.0


33 km
107km / 67mi
South Pacific Ocean, 67 km NW of Iquique, Tarapaca, Chile
More
Feb 25, 1983 22:49


39 years ago

6.9


146 km
126km / 78mi
Provincia de Parinacota, 94 km E of Arica, Region de Arica y Parinacota, Chile
More
Oct 4, 1940 07:55


82 years ago

6.9


35 km
77km / 48mi
44 km NW of Iquique, Tarapaca, Chile
More
Mar 16, 2014 21:16


8 years ago

6.7


20 km
103km / 64mi
South Pacific Ocean, 59 km NW of Iquique, Tarapaca, Chile
More
Jun 26, 2001 04:18


21 years ago

6.7


24 km
255km / 159mi
35 km W of Ilo, Departamento de Moquegua, Peru
More
Feb 22, 1988 19:13


34 years ago

6.7


70 km
169km / 105mi
Provincia del Tamarugal, 79 km SE of Iquique, Tarapaca, Chile
More
Dec 27, 1967 09:17


55 years ago

6.7


115 km
280km / 174mi
137 km NE of Calama, Provincia de El Loa, Antofagasta, Chile
More
Aug 20, 1965 09:42


57 years ago

6.7


124 km
119km / 74mi
Oruro, 374 km W of Sucre, Chuquisaca, Bolivia
More
Nov 30, 1999 04:01


23 years ago

6.6


128 km
88km / 55mi
128 km E of Arica, Region de Arica y Parinacota, Chile
More
Aug 13, 1987 15:23


35 years ago

6.6


37 km
193km / 120mi
Jorge Basadre, 73 km W of Tacna, Peru
More
Jan 8, 1956 20:54


67 years ago

6.6


52 km
76km / 47mi
59 km S of Arica, Region de Arica y Parinacota, Chile
More
May 11, 1948 08:55


74 years ago

6.6


59 km
236km / 147mi
10.1 km N of Quilahuani, Candarave, Tacna, Peru
More
Apr 3, 2014 01:58


8 years ago

6.5


23 km
127km / 79mi
South Pacific Ocean, 43 km W of Iquique, Tarapaca, Chile
More
Nov 13, 2009 03:05


13 years ago

6.5


27 km
46km / 29mi
93 km N of Iquique, Tarapaca, Chile
More
Nov 30, 1976 00:40


46 years ago

6.5


82 km
168km / 104mi
133 km E of Iquique, Tarapaca, Chile
More
Dec 4, 1934 17:24


88 years ago

6.5


35 km
21km / 13mi
Provincia del Tamarugal, Tarapaca, 105 km SE of Arica, Region de Arica y Parinacota, Chile
More
Oct 10, 2017 06:32


5 years ago

6.4


98 km
78km / 49mi
67 km E of Arica, Region de Arica y Parinacota, Chile
More
Mar 23, 2015 04:51


7 years ago

6.4


118 km
131km / 81mi
126 km E of Arica, Region de Arica y Parinacota, Chile
More
Apr 3, 2014 02:41


8 years ago

6.4


10 km
141km / 87mi
South Pacific Ocean, 89 km W of Iquique, Tarapaca, Chile
More
Jul 24, 2001 05:00


21 years ago

6.4


33 km
68km / 42mi
127 km NE of Iquique, Tarapaca, Chile
More
Oct 6, 1940 15:38


82 years ago

6.4


15 km
87km / 54mi
68 km NW of Iquique, Tarapaca, Chile
More
Sep 11, 2020 07:35


1 year 42 weeks ago

6.3


54 km
227km / 141mi
Tarapaca, 86 km N of Tocopilla, Antofagasta, Chile
More
Jan 21, 2018 01:06


4 years ago

6.3


118 km
69km / 43mi
107 km SE of Arica, Region de Arica y Parinacota, Chile
More
Mar 6, 2011 12:31


11 years ago

6.3


118 km
154km / 96mi
Provincia de Parinacota, 111 km NE of Arica, Region de Arica y Parinacota, Chile
More
Feb 4, 2008 17:01


14 years ago

6.3


35 km
96km / 59mi
13 km NE of Iquique, Tarapaca, Chile
More
Dec 12, 1994 07:41


28 years ago

6.3


148 km
207km / 129mi
92 km NE of Tacna, Peru
More
Dec 6, 1955 04:31


67 years ago

6.3


35 km
151km / 94mi
48 km SW of Iquique, Tarapaca, Chile
More
Jul 26, 1946 06:44


76 years ago

6.3


64 km
161km / 100mi
58 km SW of Iquique, Tarapaca, Chile
More
Jan 20, 2018 13:06


4 years ago

6.2


113 km
34km / 21mi
Tarapaca, 91 km SE of Arica, Region de Arica y Parinacota, Chile
More
Apr 3, 2014 05:26


8 years ago

6.2


24 km
179km / 112mi
South Pacific Ocean, 78 km SW of Iquique, Tarapaca, Chile
More
Apr 1, 2014 23:58


8 years ago

6.2


18 km
41km / 26mi
South Pacific Ocean, 88 km N of Iquique, Tarapaca, Chile
More
Mar 22, 2014 12:59


8 years ago

6.2


15 km
121km / 75mi
South Pacific Ocean, 96 km NW of Iquique, Tarapaca, Chile
More
Mar 17, 2014 05:11


8 years ago

6.2


10.6 km
128km / 79mi
South Pacific Ocean, 73 km W of Iquique, Tarapaca, Chile
More
May 14, 2012 10:00


10 years ago

6.2


106 km
185km / 115mi
116 km NE of Arica, Region de Arica y Parinacota, Chile
More
May 6, 2010 02:42


12 years ago

6.2


37 km
157km / 97mi
31 km W of Tacna, Peru
More
Mar 24, 2008 20:39


14 years ago

6.2


120 km
126km / 78mi
Provincia del Tamarugal, 125 km E of Iquique, Tarapaca, Chile
More
Apr 1, 1997 18:42


25 years ago

6.2


116 km
122km / 76mi
Provincia de Parinacota, 101 km E of Arica, Region de Arica y Parinacota, Chile
More
Apr 1, 1997 18:33


25 years ago

6.2


114 km
120km / 74mi
Provincia de Parinacota, 84 km E of Arica, Region de Arica y Parinacota, Chile
More
Apr 5, 1989 23:47


33 years ago

6.2


112 km
193km / 120mi
Provincia del Tamarugal, 137 km SE of Iquique, Tarapaca, Chile
More
Dec 29, 1962 10:41


60 years ago

6.2


50 km
88km / 54mi
26 km NE of Iquique, Tarapaca, Chile
More
Dec 6, 2020 16:47


1 year 30 weeks ago

6.1


108 km
144km / 89mi
114 km E of Iquique, Tarapaca, Chile
More
Dec 3, 2019 08:46


3 years ago

6.1


39 km
119km / 74mi
South Pacific Ocean, 54 km SW of Tacna, Peru
More
Apr 4, 2014 01:37


8 years ago

6.1


20 km
170km / 106mi
South Pacific Ocean, 76 km SW of Iquique, Tarapaca, Chile
More
May 14, 2012 10:00


10 years ago

6.1


98 km
142km / 88mi
21 km E of Tacna, Peru
More
Apr 17, 2009 02:08


13 years ago

6.1


25 km
69km / 43mi
78 km NW of Iquique, Tarapaca, Chile
More
Feb 16, 2008 14:45


14 years ago

6.1


130 km
275km / 171mi
135 km NE of Calama, Provincia de El Loa, Antofagasta, Chile
More
Nov 1, 1989 06:40


33 years ago

6.1


140 km
275km / 171mi
Departamento de Potosi, Bolivia
More
Feb 26, 1984 08:18


38 years ago

6.1


113 km
233km / 145mi
Jorge Basadre, Tacna, 45 km E of Moquegua, Peru
More
Dec 11, 1980 18:15


42 years ago

6.1


80 km
283km / 176mi
Provincia de El Loa, Antofagasta, Chile
More
May 26, 1980 18:41


42 years ago

6.1


114 km
68km / 42mi
Provincia del Tamarugal, 134 km NE of Iquique, Tarapaca, Chile
More
May 11, 1967 15:05


55 years ago

6.1


109 km
156km / 97mi
139 km E of Iquique, Tarapaca, Chile
More
Dec 6, 1960 08:56


62 years ago

6.1


50 km
233km / 145mi
141 km S of Iquique, Tarapaca, Chile
More
Apr 11, 2014 00:01


8 years ago

6.0


18 km
182km / 113mi
South Pacific Ocean, 84 km SW of Iquique, Tarapaca, Chile
More
Mar 23, 2014 18:20


8 years ago

6.0


35 km
108km / 67mi
South Pacific Ocean, 87 km NW of Iquique, Tarapaca, Chile
More
May 18, 1985 16:59


37 years ago

6.0


110 km
94km / 59mi
Tarapaca, 144 km SE of Arica, Region de Arica y Parinacota, Chile
More
Dec 31, 1982 03:47


40 years ago

6.0


118 km
238km / 148mi
170 km N of Calama, Provincia de El Loa, Antofagasta, Chile
More
Nov 28, 1970 14:45


52 years ago

6.0


45 km
189km / 118mi
95 km S of Iquique, Tarapaca, Chile
More
Jul 11, 1958 19:10


64 years ago

6.0


55 km
213km / 133mi
126 km SE of Iquique, Tarapaca, Chile
More
May 24, 1952 01:59


70 years ago

6.0


25 km
206km / 128mi
111 km SW of Iquique, Tarapaca, Chile
More
May 15, 1951 05:18


71 years ago

6.0


53 km
238km / 148mi
Tarapaca, 78 km NE of Tocopilla, Antofagasta, Chile
More
Jul 17, 2020 05:40


1 year 50 weeks ago

5.9


71 km
102km / 63mi
South Pacific Ocean, 4.1 km NW of Iquique, Tarapaca, Chile
More
Jul 17, 2020 05:40


1 year 50 weeks ago

5.9


73 km
110km / 68mi
21 km SE of Iquique, Tarapaca, Chile
More
Mar 18, 2014 21:26


8 years ago

5.9


10 km
123km / 76mi
South Pacific Ocean, 72 km W of Iquique, Tarapaca, Chile
More
Jan 4, 2014 00:11


9 years ago

5.9


7.3 km
169km / 105mi
South Pacific Ocean, 72 km SW of Iquique, Tarapaca, Chile
More
Apr 2, 2011 10:59


11 years ago

5.9


110 km
95km / 59mi
140 km NE of Iquique, Tarapaca, Chile
More
Sep 9, 1995 20:58


27 years ago

5.9


75 km
108km / 67mi
87 km E of Iquique, Tarapaca, Chile
More
May 10, 1994 01:49


28 years ago

5.9


52 km
34km / 21mi
77 km NE of Iquique, Tarapaca, Chile
More
Jun 12, 1965 18:50


57 years ago

5.9


102 km
154km / 96mi
127 km E of Iquique, Tarapaca, Chile
More
Jun 15, 1962 06:30


60 years ago

5.9


35 km
169km / 105mi
73 km SW of Iquique, Tarapaca, Chile
More
Apr 5, 2018 11:12


4 years ago

5.8


20 km
157km / 98mi
South Pacific Ocean, 72 km W of Iquique, Tarapaca, Chile
More
Jun 20, 2014 20:22


8 years ago

5.8


26 km
109km / 68mi
South Pacific Ocean, 83 km NW of Iquique, Tarapaca, Chile
More
Jun 19, 2014 09:38


8 years ago

5.8


22 km
117km / 73mi
South Pacific Ocean, 73 km NW of Iquique, Tarapaca, Chile
More
Apr 19, 2014 20:54


8 years ago

5.8


9 km
133km / 83mi
South Pacific Ocean, 82 km W of Iquique, Tarapaca, Chile
More
Apr 7, 2014 13:43


8 years ago

5.8


7.9 km
139km / 86mi
South Pacific Ocean, 75 km W of Iquique, Tarapaca, Chile
More
Apr 3, 2014 03:11


8 years ago

5.8


10 km
171km / 106mi
South Pacific Ocean, 77 km SW of Iquique, Tarapaca, Chile
More
Apr 2, 2014 04:46


8 years ago

5.8


10 km
137km / 85mi
South Pacific Ocean, 73 km W of Iquique, Tarapaca, Chile
More
Apr 2, 2014 00:03


8 years ago

5.8


10 km
119km / 74mi
South Pacific Ocean, 86 km NW of Iquique, Tarapaca, Chile
More
Apr 5, 2010 22:36


12 years ago

5.8


94 km
125km / 78mi
142 km E of Iquique, Tarapaca, Chile
More
Dec 25, 2007 16:20


15 years ago

5.8


113 km
89km / 55mi
144 km NE of Iquique, Tarapaca, Chile
More
Apr 9, 2006 20:50


16 years ago

5.8


35 km
131km / 82mi
28 km S of Iquique, Tarapaca, Chile
More
Aug 14, 2005 02:39


17 years ago

5.8


114 km
108km / 67mi
Provincia del Tamarugal, 131 km E of Iquique, Tarapaca, Chile
More
Jan 14, 2002 15:36


20 years ago

5.8


33 km
69km / 43mi
133 km NE of Iquique, Tarapaca, Chile
More
Mar 16, 2001 04:36


21 years ago

5.8


115 km
171km / 106mi
Departamento de Potosi, Bolivia
More
Mar 5, 1999 00:33


23 years ago

5.8


111 km
160km / 100mi
Provincia del Tamarugal, 132 km E of Iquique, Tarapaca, Chile
More
Apr 16, 1992 18:33


30 years ago

5.8


122 km
166km / 103mi
Departamento de Potosi, Bolivia
More
May 17, 1990 11:03


32 years ago

5.8


106 km
140km / 87mi
Provincia de Parinacota, 83 km NE of Arica, Region de Arica y Parinacota, Chile
More
Mar 26, 1981 18:04


41 years ago

5.8


138 km
98km / 61mi
Provincia del Tamarugal, 156 km NE of Iquique, Tarapaca, Chile
More
May 12, 1974 10:05


48 years ago

5.8


112 km
92km / 57mi
136 km NE of Iquique, Tarapaca, Chile
More
Mar 8, 1966 20:46


56 years ago

5.8


109 km
133km / 82mi
Provincia del Tamarugal, 139 km E of Iquique, Tarapaca, Chile
More
Jun 19, 2014 19:54


8 years ago

5.7


10 km
105km / 65mi
South Pacific Ocean, 76 km NW of Iquique, Tarapaca, Chile
More
Apr 8, 2014 10:14


8 years ago

5.7


7.1 km
170km / 106mi
South Pacific Ocean, 87 km W of Iquique, Tarapaca, Chile
More
Apr 2, 2014 05:02


8 years ago

5.7


51 km
87km / 54mi
South Pacific Ocean, 91 km NW of Iquique, Tarapaca, Chile
More
Apr 2, 2014 00:06


8 years ago

5.7


10 km
103km / 64mi
South Pacific Ocean, 95 km NW of Iquique, Tarapaca, Chile
More
Map of earlier quakes