Weak mag. 2.0 earthquake - 31 Km ESE of Mina, Nevada, on Saturday, Aug 13, 2022 at 9:31 am (GMT -7) -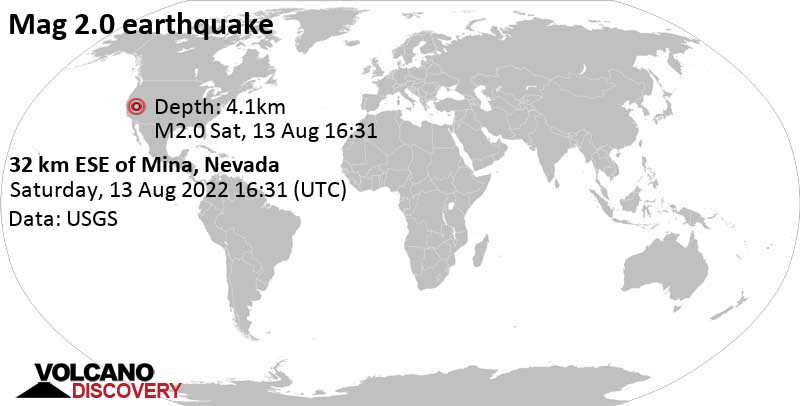 Weak magnitude 2.0 earthquake at 5 km depth
13 Aug 16:36 UTC: First to report: EMSC after 5 minutes.
13 Aug 16:36: Now using data updates from USGS
Earthquake details
Date & time
Aug 13, 2022 16:31:34 UTC -
Local time

at epicenter

Saturday, Aug 13, 2022 at 9:31 am (GMT -7)
Status
Confirmed
Magnitude
2
Depth
5.4 km
Epicenter

latitude / longitude

38.2466°N / 117.7975°W (Nevada, United States)
Antipode
38.247°S / 62.203°E
Shaking

intensity

Very weak shaking
Felt
0 reports
Primary data source
USGS (United States Geological Survey)
Nearest volcano
Mono Lake (111 km / 69 mi)
Nearby

towns and cities

32 km (20 mi) ESE of Mina (pop: 155) |

Show on map

| Quakes nearby
53 km (33 mi) WNW of Tonopah (pop: 2,480) |

Show on map

| Quakes nearby
69 km (43 mi) NNE of Dyer (pop: 259) |

Show on map

| Quakes nearby
70 km (44 mi) S of Gabbs (pop: 269) |

Show on map

| Quakes nearby
76 km (47 mi) NE of Benton (California) (pop: 280) |

Show on map

| Quakes nearby
78 km (48 mi) NW of Goldfield (pop: 268) |

Show on map

| Quakes nearby
78 km (49 mi) ESE of Hawthorne (pop: 3,270) |

Show on map

| Quakes nearby
110 km (68 mi) NNE of Dixon Lane-Meadow Creek (California) (pop: 2,650) |

Show on map

| Quakes nearby
Weather at epicenter

at time of quake

Few Clouds 26.2°C (79 F), humidity: 26%, wind: 0 m/s (0 kts) from SSW
Estimated

seismic

energy

released

6.3 x 107 joules (17.5 kilowatt hours) | about seismic energy
Data for the same earthquake reported by different agencies
Info: The more agencies report about the same quake and post similar data, the more confidence you can have in the data. It takes normally up to a few hours until earthquake parameters are calculated with near-optimum precision.
Seismograms
Seismic station: NVAR Array Site 31, Mina, NV, USA (NV31/IM network)
| Distance from quake: 37 km / 23 mi |
Show on map
|
Station Info
Seismogram (vertical component) around time of quake. Thin dotted red line indicates time of quake. Seismic waves arrive some time later, depending on distance. Source:
IRIS Buffer of Uniform Data (BUD) webtool
User reports for this quake
At magnitude 2.0, such a quake wouldn't normally be felt by people except under very favorable conditions.
There are no user reports for this quake.