Light mag. 3.8 earthquake - North Pacific Ocean, Japan, on Thursday, Nov 24, 2022 at 8:57 pm (GMT +10) -
I felt this quake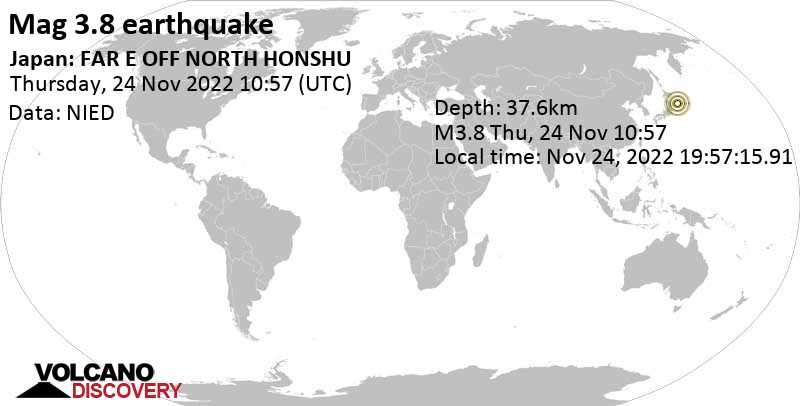 Light magnitude 3.8 earthquake at 38 km depth
24 Nov 11:05 UTC: First to report: NIED after 8 minutes.
I felt this quake
I didn't feel it
Earthquake details
Date & time
Nov 24, 2022 10:57:15 UTC -
Local time

at epicenter

Thursday, Nov 24, 2022 at 8:57 pm (GMT +10)
Status
Confirmed
Magnitude
3.8
Depth
37.6 km
Epicenter

latitude / longitude

39.525°N / 144.939°E (North Pacific Ocean, Japan)
Antipode
39.525°S / 35.061°W
Shaking

intensity

Weak shaking near epicenter
Felt
0 reports
Primary data source
NIED (National Research Institute for Earth Science and Disaster Resilience)
Nearby

towns and cities

629 km (391 mi) NE of Tokyo (pop: 8,336,600) |

Show on map

| Quakes nearby
Weather at epicenter

at time of quake

Overcast Clouds 12.5°C (54 F), humidity: 66%, wind: 11 m/s (22 kts) from N
Estimated

seismic

energy

released

3.2 x 1010 joules (8.78 megawatt hours, equivalent to 7.56 tons of TNT) | about seismic energy
If you felt this quake (or if you were near the epicenter),
please share your experience and submit a short "I felt it" report!
Other users would love to hear about it!
If you did NOT feel the quake
although you were in the area,
please report it
! Your contribution is valuable to earthquake science, seismic hazard analysis and mitigation efforts. You can use your device location or the map to indicate where you were during the earthquake. Thank you!
Data for the same earthquake reported by different agencies
Info: The more agencies report about the same quake and post similar data, the more confidence you can have in the data. It takes normally up to a few hours until earthquake parameters are calculated with near-optimum precision.
| | | | |
| --- | --- | --- | --- |
| Mag. | Depth | Location | Source |
| 3.8 | 38 km | Japan: FAR E OFF NORTH HONSHU | NIED |
Seismograms
Seismic station: Kamikawa Asahi (JKA/JP network)
| Distance from quake: 266 km / 166 mi |
Show on map
|
Station Info
Seismogram (vertical component) around time of quake. Thin dotted red line indicates time of quake. Seismic waves arrive some time later, depending on distance. Source:
IRIS Buffer of Uniform Data (BUD) webtool
User reports for this quake
There are no user reports for this quake yet. If you felt it be the first to report it!