Mag. 1.7 quake - 29 km northwest of Larisa, Nomos Larisis, Thessaly, Greece, on Saturday, Sep 23, 2023 04:41 am (Athens time) -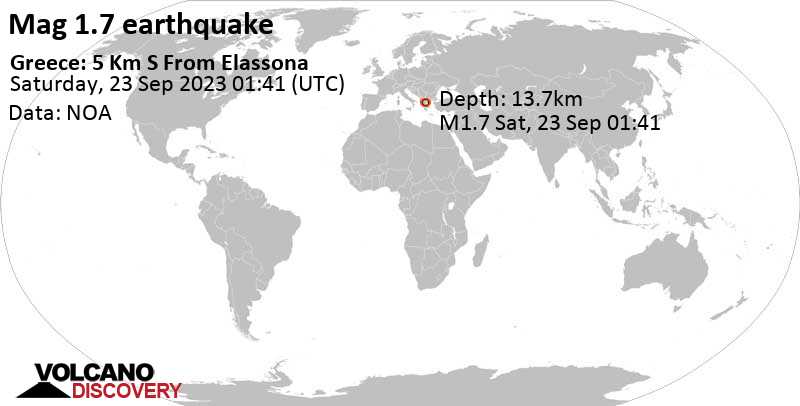 Minor magnitude 1.7 earthquake at 14 km depth
23 Sep 01:48 UTC: First to report: RaspberryShake after 6 minutes.
23 Sep 01:51: Now using data updates from NOA
23 Sep 01:58: Magnitude recalculated from 1.8 to 1.7. Hypocenter depth recalculated from 10.0 to 13.7 km (from 6.2 to 8.5 mi). Epicenter location corrected by 11 km (6.9 mi) towards SSW.
Earthquake details
Date & time
Sep 23, 2023 01:41:43 UTC -
Local time

at epicenter

Saturday, Sep 23, 2023 04:41 am (Europe/Athens GMT +3)
Status
Confirmed
Magnitude
1.7
Depth
13.7 km
Epicenter

latitude / longitude

39.7618°N / 22.1223°E Nomos Larisis, Thessaly, Greece
Antipode
39.7618°S / 157.878°W
Shaking

intensity

Not felt
Primary data source
NOA (National Observatory of Athens)
Nearest volcano
Sousaki (220 km / 137 mi)
Weather at epicenter

at time of quake

Clear Sky 23°C (73 F), humidity: 54%, wind: 1 m/s (1 kts) from NNW
Estimated

seismic

energy

released

2.2 x 107 joules (6.22 kilowatt hours) | about seismic energy
Nearby places
Distance
Place
Max. shaking intensity(*)
Region
Country
4 km (2 mi)

SW of epicenter

Vlachogianni

(pop: 855)

Nomos Larisis, Thessaly
13 km (8 mi)

W of epicenter

Verdikoussa

(pop: 1,600)

Nomos Larisis, Thessaly
15 km (9 mi)

E of epicenter

Týrnavos

(pop: 10,800)

Nomos Larisis, Thessaly
16 km (10 mi)

NNE of epicenter

Elassona

(pop: 7,060)

Nomos Larisis, Thessaly
29 km (18 mi)

ESE of epicenter

Larisa

(pop: 144,700)

Nomos Larisis, Thessaly
38 km (24 mi)

SW of epicenter

Trikala

(pop: 61,700)

Trikala, Thessaly
47 km (29 mi)

SSW of epicenter

Karditsa

(pop: 32,800)

Nomos Kardhitsas, Thessaly
242 km (150 mi)

SE of epicenter

Athens

(pop: 664,000)

Nomarchia Athinas, Attica
Notes:
(*) Shaking intensity according to the Modified Mercalli Intensity Scale (MMI) and estimated using seismic models.
Compare Quake Data
Data for the same earthquake as reported by different agencies
The more agencies report about the same quake and post similar data, the more confidence you can have in the data. It takes normally up to a few hours until earthquake parameters are calculated with near-optimum precision.
Mag
Depth
Time GMT
Epicenter
Agency
1.7
14 km (8.5 mi)

2023-09-23

01:41:43
Greece: 5 Km S From Elassona
NOA (National Observatory of Athens)
1.7
14 km (8.5 mi)

2023-09-23

01:41:43
Greece

0 km (0 mi) epicenter difference with NOA

RaspberryShake (RaspberryShake)
User-reports for this quake
At magnitude 1.7, such a quake wouldn't normally be felt by people, but could be recorded instrumentally.