El Hierro volcano
Updated: Jul 6, 2022 13:05 GMT -
Refresh
shield volcano 1500 m / 4921 ft
Canary Islands (Spain), 27.63°N / -17.99°W
Current status: normal or dormant (1 out of 5)
Last update: 15 Dec 2021

The triangular island of El Hierro is the SW-most and least studied of the Canary Islands.
Following intense earthquake swarms since July 2011, a new submarine eruption started in Oct 2011 at a vent ca. 1 km south of La Restinga off the southern tip of the island. The eruption, which could even start to build a new island, is ongoing at the time of updating. Follow the El Hierro news page for the latest events.
Typical eruption style:
mainly effusive, basaltic fissure eruptions
El Hierro volcano eruptions:
2012 (?) (probable second submarine eruption in June-July west of the island), 2011-12 (Oct-Mar, submarine eruption near La Restinga), 1793
Lastest nearby earthquakes:
No recent earthquakes
Background
The massive El Hierro shield volcano is truncated by a large NW-facing escarpment formed as a result of gravitational collapse of El Golfo volcano about 130,000 years ago. The steep-sided 1500-m-high scarp towers above a low lava platform bordering 12-km-wide El Golfo Bay, and three other large submarine landslide deposits occur to the SW and SE. Three prominent rifts oriented NW, NE, and south at 120 degree angles form prominent topographic ridges. The subaerial portion of the volcano consists of flat-lying Quaternary basaltic and trachybasaltic lava flows and tuffs capped by numerous young cinder cones and lava flows. Holocene cones and flows are found both on the outer flanks and in the El Golfo depression. El Hierro contains the greatest concentration of young vents in the Canary Islands. Uncertainty surrounds the report of an historical eruption in 1793 at Volcano of Lomo Negro. Source: Smithsonian GVP
El Hierro Photos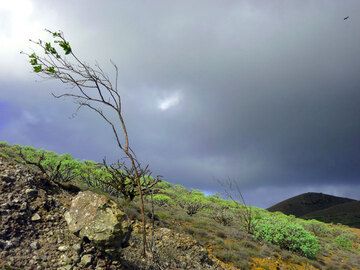 A storm arises on El Hierro, Canary islands. (Photo: Janka)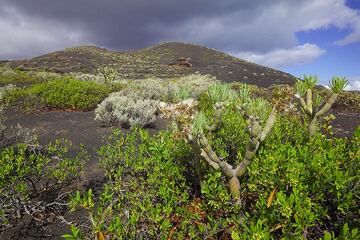 South rift zone landscape, El Hierro Island (Canary Islands) (Photo: Tom Pfeiffer)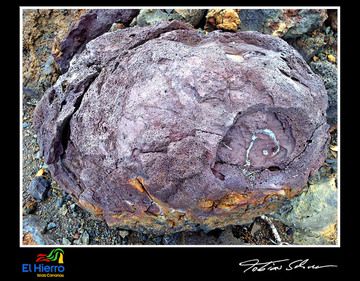 Lava bomb at Playa de Verodal/El Hierro (Photo: Tobias Schorr)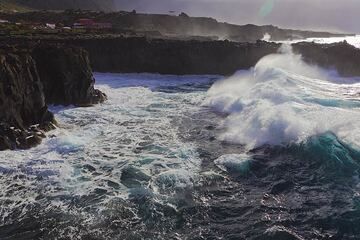 Big surf at the west coast of El Hierro Island. The coast is formed by Holocene basalt lava flows forming a plateau that is exposed to the full force of the ocean waves. ...
El Hierro volcano tours:

Europe's Volcanic Outpost
(Walking and study tour to the Canary Islands: Lanzarote, La Palma, El Hierro and Tenerife)

See also: Sentinel hub | Landsat 8 | NASA FIRMS