New El Hierro webcam
A new webcam is now available from
Meteo Las Puntas
. Location is Frontera, looking westwards.
.
You can also use our
Webcam viewer tool
to view available online data for El Hierro (webcams, seismic recordings, deformation and earthquake plots).
Webcams at La Restina, El Hierro
Webcam by Movistar
:- has been shut down! The "official" declaration of the eruption ending is stated as reason.
Authorities have decided to shut down the web cameras and stop active monitoring of what is probably still going on at the sea floor south of La Restinga, El Hierro Island.
More on VolcanoDiscovery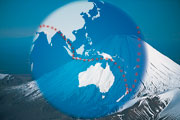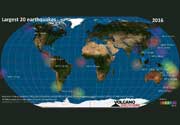 Top 20 quakes in 2016
: Several magnitude 7 quakes occurred in 2016 (but none above M8): Papua New Guinea, NZ, Ecuador, Solomon Islands, Sumatra, Chile, Alaska and others - nearly all major earthquakes were located near active subduction zones.
See the top 20 list of largest quakes in 2016 with this map.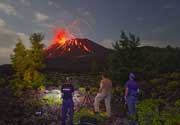 Volcano & eruption special tours
: Tours dedicated to usually a single volcano currently in eruption. These trip, sometimes offered only last-minute through our newsletter, are among the most adventurous and most popular in our program.