Krakatau ηφαίστειο
Caldera 813 m (2,667 ft.) / Anak Krakatau: 189 m
Sunda Strait, Indonesia, -6.1°S / 105.42°E
Current status: έκρηξη (4 out of 5)
Last update: 25 Jun 2022 (eruptions continue at irregular intervals)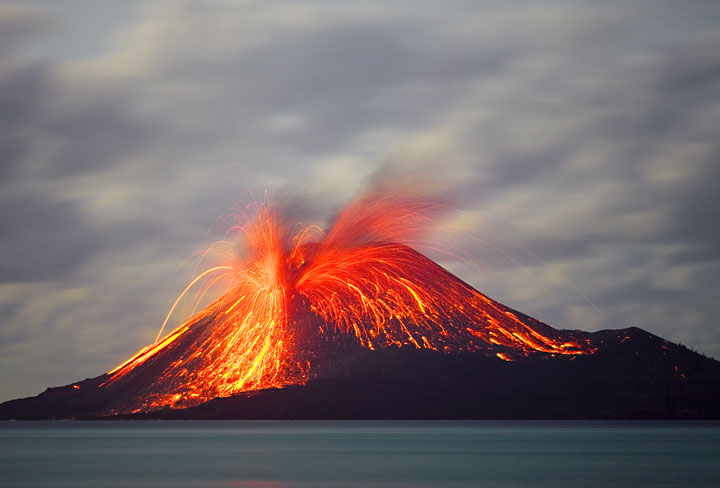 Violent eruption of Krakatau showering the summit cone with incandescent bombs.
Krakatau, a small island group in the Sunda Strait between the islands of Sumatra and Java is one of the world's most famous volcanoes. It is a mostly submerged caldera with 3 outer islands belonging to the rim and a new cone, Anak Krakatau, that has been forming a new island since 1927 and remains highly active.
Krakatau exploded spectacularly in a devastating Plinian eruption 1883 that killed more than 30,000 people (mostly by the huge tsunamis triggered by the eruption). The eruption was one of the first global news events after telegraph lines had connected the different continents.
Typical eruption style:
Explosive. Construction of a cinder cone  island (Anak Krakatau) inside the caldera formed by the 1883 eruption. Frequent strombolian activity.
Krakatau ηφαίστειο εκρήξεις:
1530, 1680-81, 1684, 1883 (Plinian eruption), 1927-30, 1931-32, 1932-34, 1935, 1936, 1937, 1938-40, 1941, 1942, 1943, 1944, 1945, 1946, 1946-47, 1949, 1950, 1952, 1953, 1955, 1958-59, 1959-63, 1965(?), 1969(?), 1972-73, 1975, 1978, 1979, 1980, 1981, 1988, 1992-93, 1994-95, 1996, 1997, 1999, 2000, 2001, 2007-8, April 2009-early 2010, Oct 2010 - March 2011, July-Oct 2011, Jan-May + Sep 2012, 2015(?), 2017, 2018 (
22 Dec eruption & tsunami
), 2019-ongoing
Lastest nearby earthquakes:
Δεν πρόσφατους σεισμούς
Background
The renowned volcano Krakatau (or Krakatoa) lies in the Sunda Strait between Java and Sumatra. Collapse of the ancestral Krakatau edifice, perhaps in 416 AD, formed a 7-km-wide caldera. Remnants of this ancestral volcano are preserved in Verlaten and Lang Islands; subsequently Rakata, Danan and Perbuwatan volcanoes were formed, coalescing to create the pre-1883 Krakatau Island. Caldera collapse during the catastrophic 1883 eruption destroyed Danan and Perbuwatan volcanoes, and left only a remnant of Rakata volcano. This eruption, the 2nd largest in Indonesia during historical time, caused more than 36,000 fatalities, most as a result of devastating tsunamis that swept the adjacent coastlines of Sumatra and Java. Pyroclastic surges traveled 40 km across the Sunda Strait and reached the Sumatra coast. After a quiescence of less than a half century, the post-collapse cone of Anak Krakatau (Child of Krakatau) was constructed within the 1883 caldera at a point between the former cones of Danan and Perbuwatan. Anak Krakatau has been the site of frequent eruptions since 1927.
---
Source: GVP, Smithsonian Institution
Krakatau Φωτογραφίες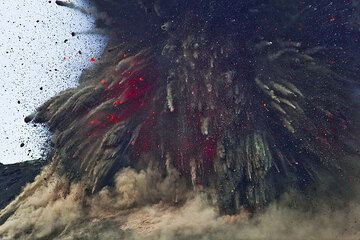 Zoom onto the expanding ejected plug of the explosion; only few of the blocks are actually glowing red. At night, this means that most blocks won't be visible! (Photo: To...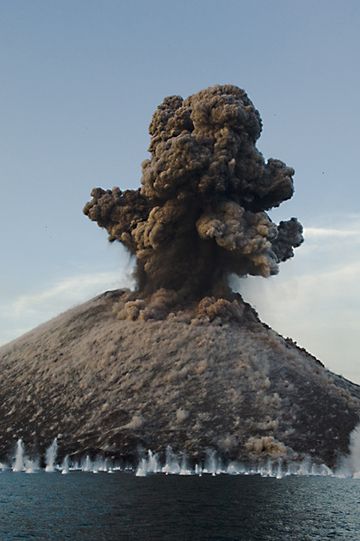 A barrage of bombs hits the water, some quite far from the shore. (Photo: Iris Karinkanta)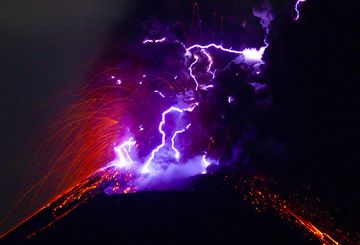 Lightning in the eruption ash column of an explosion of Anak Krakatau (Nov 2010) (Photo: Tom Pfeiffer)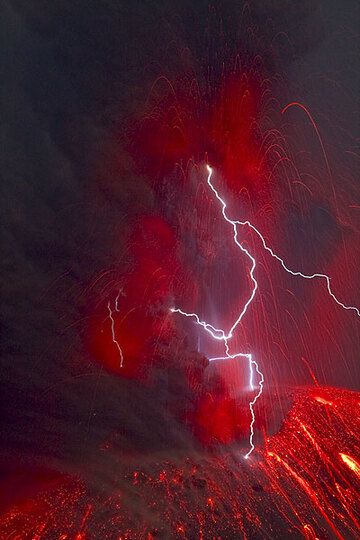 One of the rare (every 2-12 hrs approximately) vulcanian-type explosions at night with a large lightning forming inside the turbulent ash cloud. (1 Sep 09) (Photo: Tom Pf...

See also: Sentinel hub | Landsat 8 | NASA FIRMS