Laacher See ηφαίστειο
Τελευταία ανανενώση: 27 Νοεμβρίου 2022 12:23 GMT
-
καλντέρα 407 m
Γερμανία, 50.42°N / 7.28°E
Current status: normal or dormant (1 out of 5)
Last update: 23 Jan 2022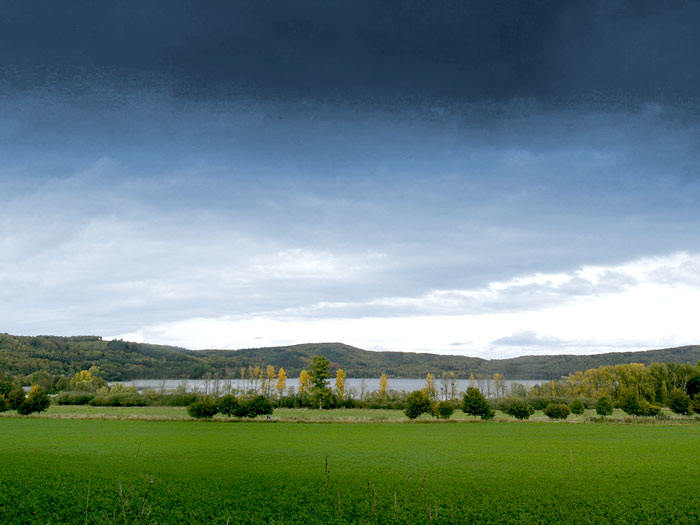 The Laacher See lake in Germany (photo: Tobias Schorr)
Laacher See or Laach Lake (in English) is a crater lake or more exactly a caldera lake in the Rhineland-Palatinate, Germany, situated close to the cities of Koblenz, Mayen (11 km), and Andernach (14 km). It fills a volcanic caldera in the Eifel mountain range, the only caldera in Central Europe. It is part of the area of the "east Eifel volcanic field".
Typical eruption style:
Plinian eruptions, interaction between hot magma and water, hydrothermal explosions
Laacher See ηφαίστειο εκρήξεις:
10900 B.C. - 9191 B.C.
Latest nearby earthquakes
Ώρα
Mag. / Βάθος
Απόσταση/Τοποθεσία
Πέμπτη, 24 Νοεμβρίου 2022 GMT (1 σεισμός)
24 Νοε 2022 12:47 (GMT +1)

(24 Νοε 2022 11:47 GMT)




1.7


3 km
5.4 km (3.4 mi)
Germany: Mendig (Rheinland-Pfalz, DE)
Κυριακή, 20 Νοεμβρίου 2022 GMT (1 σεισμός)
20 Νοε 2022 13:51 (GMT +1)

(20 Νοε 2022 12:51 GMT)




2.3


2 km
30 km (19 mi)
17 km νοτιοδυτικά από Boppard, Γερμανία
Τρίτη, 15 Νοεμβρίου 2022 GMT (1 σεισμός)
15 Νοε 2022 10:25 (GMT +1)

(15 Νοε 2022 09:25 GMT)




1.4


1 km
24 km (15 mi)
Germany: Polch (Rheinland-Pfalz, DE)
Background
The caldera of Laacher See was formed after the Laacher volcano erupted, between 12,900 and 11,200 years ago. The remaining crust collapsed into the empty magma chamber below, only two or three days after the eruption. With an estimated Volcanic Explosivity Index value of 6, this eruption was 250 times larger than the eruption of Mount St. Helens in 1980. Remains of this eruption can be found all over Europe and is often used for dating of sediments. A number of unique minerals, like Hauyn can be found in the region, and quaries to mine the stone as a building material.

The Laacher is still considered to be an active volcano, proven by seismic activities and heavy thermal anomalies under the lake. Carbon dioxide (CO2) gas from magma still bubbles up at the southeastern shore (mofettes), and scientists believe that a new eruption can happen at any time, which, today, would be a disaster beyond all description.
Laacher See Φωτογραφίες
| | |
| --- | --- |
| Pumice layers of the Laacher Lake eruption at the quarry Wingertsbergwand near Mendig/Germany (Photo: Tobias Schorr) | The famous Wingertsbergwand, an excellent exposure of proximal pyroclastic fall and surge deposits form the Plinian Laacher See volcano eruption 10,700 years ago (East Ei... |
| Impact of a volcanic bomb of the explosion of Laacher See volcano in 9900 B.C. (Photo: Tobias Schorr) | The volcanic lake of Laacher See (last eruption 10900 B.C.) (Photo: Tobias Schorr) |



See also: Sentinel hub | Landsat 8 | NASA FIRMS