Δυνατός σεισμός μεγέθους 5.0 - Coral Sea, 45 km δυτικά από Βίλα, Βανουάτου, Τρί, 4 Μαΐ 2021 13:33 GMT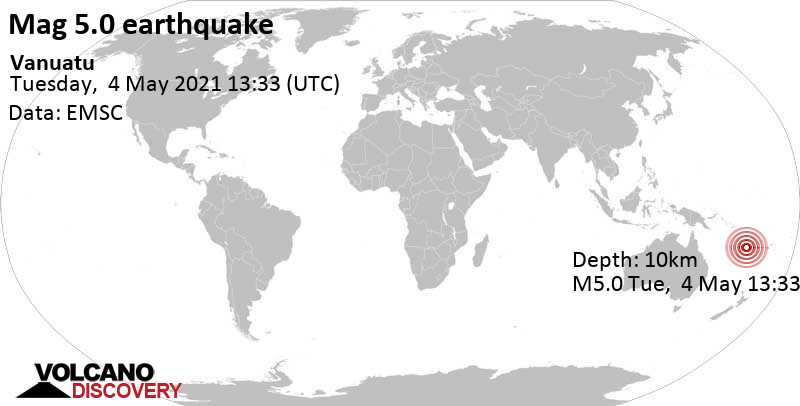 Δυνατός σεισμός μεγέθους 5.0 σε βάθος 10 χλμ
4 May 13:50 UTC: Πρώτα να αναφέρει: EMSC after 17 λεπτά.
4 May 14:16: Epicenter location corrected by 3.2 km (2 mi) towards W.

4 May 15:25: Hypocenter depth recalculated from 30.0 to 10.0 km (from 18.6 to 6.2 mi). Epicenter location corrected by 5.4 km (3.4 mi) towards ENE.
Update Tue, 4 May 2021, 13:54
Significant 5.0 quake hits near Port Vila, Shefa Province, Vanuatu
5.0 quake 5 May 12:33 am (GMT +11)
A very shallow magnitude 5.0 earthquake was reported after midnight near Port Vila, Shefa Province, Vanuatu.
According to the European-Mediterranean Seismological Centre (EMSC), the quake hit on Wednesday 5 May 2021 at 12:33 am local time at a very shallow depth of 9 km. Shallow earthquakes are felt more strongly than deeper ones as they are closer to the surface. The exact magnitude, epicenter, and depth of the quake might be revised within the next few hours or minutes as seismologists review data and refine their calculations, or as other agencies issue their report.
A second report was later issued by Geoscience Australia (GeoAu), which listed it as a magnitude 5.0 earthquake as well. A third agency, the United States Geological Survey, reported the same quake at magnitude 5.0.
Based on the preliminary seismic data, the quake was probably felt by many people in the area of the epicenter. It should not have caused significant damage, other than objects falling from shelves, broken windows, etc.
In Port Vila (pop. 35,900) located 38 km from the epicenter, the quake should have been felt as light shaking.
VolcanoDiscovery will automatically update magnitude and depth if these change and follow up if other significant news about the quake become available. If you're in the area, please send us your experience through our reporting mechanism, either
online
or via
our mobile app
. This will help us provide more first-hand updates to anyone around the globe who wants to know more about this quake.
Λεπτομέρειες σεισμού
Ημερομηνία και ώρα
4 May 2021 13:33:22 UTC
Τοπική ώρα

στο επίκεντρο

5 May 12:33 am (GMT +11)
Status
Επιβεβαιωμένος
Μέγεθος
5
Βάθος
10.0 km
Επίκεντρο

γεωγραφικό πλάτος / γεωγραφικό μήκος

17.62°S / 167.91°E (Coral Sea, Βανουάτου)
Antipode
17.62°N / 12.09°W
Ένταση δονήσεων
Σχετικά Ισχυρός κοντά στο επίκεντρο
Αισθητός
0 αναφορές
Κύρια πηγή δεδομένων
EMSC (European-Mediterranean Seismological Centre)
Πλησιέστερα ηφαίστειο
North Vate (47 km / 29 mi)
Κοντινά μέρη
45 km (28 mi) ΒΔ of Βίλα (Port Vila) (pop: 35,900) |

Στον χάρτη

| Σεισμοί κοντά
181 km (113 mi) ΝΑ of Norsup (pop: 3,000) |

Στον χάρτη

| Σεισμοί κοντά
247 km (153 mi) ΝΑ of Santo (Luganville) (pop: 13,400) |

Στον χάρτη

| Σεισμοί κοντά
258 km (160 mi) ΒΔ of Isangel (pop: 1,440) |

Στον χάρτη

| Σεισμοί κοντά
300 km (187 mi) ΝΑ of Port-Olry (pop: 1,950) |

Στον χάρτη

| Σεισμοί κοντά
367 km (228 mi) ΒΑ of Fayaoué (Νέα Καληδονία) (pop: 4,410) |

Στον χάρτη

| Σεισμοί κοντά
373 km (232 mi) Β of Wé (Lifou, Νέα Καληδονία) (pop: 10,400) |

Στον χάρτη

| Σεισμοί κοντά
457 km (284 mi) ΒΑ of Poindimié (Νέα Καληδονία) (pop: 4,890) |

Στον χάρτη

| Σεισμοί κοντά
467 km (290 mi) ΒΑ of Punereuin (Νέα Καληδονία) (pop: 2,740) |

Στον χάρτη

| Σεισμοί κοντά
498 km (310 mi) ΒΑ of Koné (Νέα Καληδονία) (pop: 4,570) |

Στον χάρτη

| Σεισμοί κοντά
134 km (83 mi) ΝΔ of Paama Island (pop: 1,630) |

Στον χάρτη

| Σεισμοί κοντά
156 km (97 mi) ΝΑ of Malakula Island (pop: 22,900) |

Στον χάρτη

| Σεισμοί κοντά
263 km (164 mi) ΒΔ of Tanna Island (pop: 28,800) |

Στον χάρτη

| Σεισμοί κοντά
Ο καιρός στο επίκεντρο

την ώρα του σεισμού

Overcast Clouds 24°C (75 F), humidity: 94%, wind: 1 m/s (1 kts) from SW
Εκτιμώμενη

εκλυόμενη

σεισμική ενέργεια
2 x 1012 joules (554 megawatt hours, ισοδυναμεί με 477 τόνους TNT) | about seismic energy
Data for the same earthquake reported by different agencies
Info: The more agencies report about the same quake and post similar data, the more confidence you can have in the data. It takes normally up to a few hours until earthquake parameters are calculated with near-optimum precision.
| | | | |
| --- | --- | --- | --- |
| Mag. | Βάθος | Τοποθεσία | Πηγή |
| 5.0 | 10 km | VANUATU | EMSC |
| 5.0 | 9.3 km | 41 Km WNW of Port-Vila, Vanuatu | USGS |
| 4.9 | 36 km | Vanuatu Islands | GeoAu |
Seismograms
Seismic station: Honiara, Solomon Islands (HNR/IU network)
| Distance from quake: 1252 km / 778 mi |
Show on map
|
Station Info
Seismogram (vertical component) around time of quake. Thin dotted red line indicates time of quake. Seismic waves arrive some time later, depending on distance. Bandpass filter applied: 0.02-5.0 Hz. Source:
IRIS Buffer of Uniform Data (BUD) webtool
User reports for this quake (1)
Contribute:
Leave a comment if you find a particular report interesting or want to add to it.
Flag as inappropriate.
Mark as helpful or interesting.
Send your own user report!
ekasup
/ not felt
: I DIDNT FEEL THE EARTH QUAKE
Aftershocks
[Περισσότερες πληροφορίες]
Καταγράφηκαν μετασεισμοί, τελευταίοι πρώτοι (0 συνολικά)
So far, no aftershocks have been registered.