Μέτριος σεισμός μεγέθους 4.8 - Indian Ocean, 26 km δυτικά από Sinabang, Ινδονησία, Δευ, 10 Μαΐ 2021 20:44 GMT -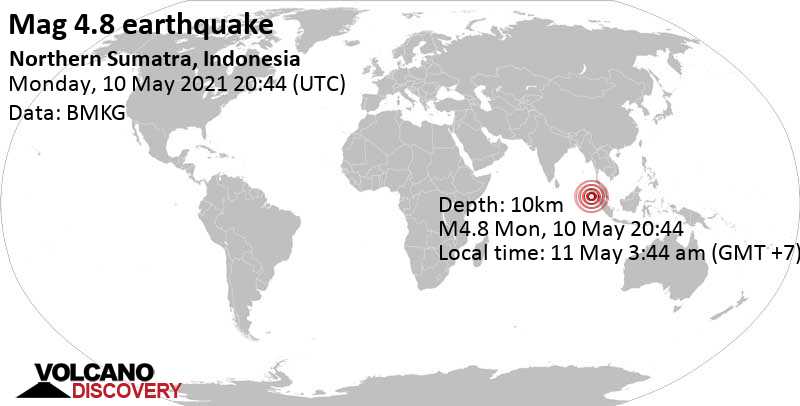 Μέτριος σεισμός μεγέθους 4.8 σε βάθος 10 χλμ
10 May 20:51 UTC: Πρώτα να αναφέρει: EMSC after 6 λεπτά.
10 May 20:55: Now using data updates from BMKG
Update Mon, 10 May 2021, 20:57
Moderate 4.8 quake hits near Sinabang, Kabupaten Simeulue, Aceh, Indonesia
4.8 quake 11 May 3:44 am (GMT +7)
A magnitude 4.8 earthquake near Sinabang, Kabupaten Simeulue, Aceh, Indonesia, was reported only 13 minutes ago by Indonesia's Meteorology, Climatology, and Geophysical Agency, considered the main national agency that monitors seismic activity in Indonesia. The earthquake occurred at a shallow depth of 10 km beneath the epicenter early morning on Tuesday 11 May 2021 at 3:44 am local time. The exact magnitude, epicenter, and depth of the quake might be revised within the next few hours or minutes as seismologists review data and refine their calculations, or as other agencies issue their report.
Our monitoring service identified a second report from the European-Mediterranean Seismological Centre (EMSC) which listed the quake at magnitude 4.8 as well.
Based on the preliminary seismic data, the quake was probably felt by many people in the area of the epicenter. It should not have caused significant damage, other than objects falling from shelves, broken windows, etc.
In Sinabang (pop. 15,000) located 26 km from the epicenter, the quake should have been felt as light shaking.
VolcanoDiscovery will automatically update magnitude and depth if these change and follow up if other significant news about the quake become available. If you're in the area, please send us your experience through our reporting mechanism, either
online
or via
our mobile app
. This will help us provide more first-hand updates to anyone around the globe who wants to know more about this quake.
Earthquake data
Ημερομηνία & time:
10 May 2021 20:44:34 UTC -
Τοπική ώρα στο επίκεντρο:
11 May 3:44 am (GMT +7)
Μέγεθος: 4.8
Βάθος: 10.0 km
Επίκεντρο γεωγραφικό πλάτος / γεωγραφικό μήκος:
2.42°N / 96.15°E
(
Indian Ocean
,
Ινδονησία
)
Antipode:
2.42°S / 83.85°W
Πλησιέστερα ηφαίστειο:
Kembar
(231 km / 144 mi)
Nearby towns and cities:
26 km (16 mi) ΝΔ of Sinabang (Kabupaten Simeulue)
(pop: 15,000) -->
Δείτε κοντινούς σεισμούς!
183 km (114 mi) Δ of Singkil
(pop: 46,800) -->
Δείτε κοντινούς σεισμούς!
192 km (119 mi) Ν of Meulaboh (Kabupaten Aceh Barat)
(pop: 35,100) -->
Δείτε κοντινούς σεισμούς!
271 km (168 mi) ΝΔ of Kabanjahe
(pop: 57,200) -->
Δείτε κοντινούς σεισμούς!
276 km (171 mi) ΝΔ of Berastagi
(pop: 44,800) -->
Δείτε κοντινούς σεισμούς!
291 km (181 mi) ΝΔ of Binjai
(pop: 228,800) -->
Δείτε κοντινούς σεισμούς!
303 km (188 mi) ΝΔ of Sunggal
(pop: 157,900) -->
Δείτε κοντινούς σεισμούς!
308 km (191 mi) ΝΔ of Μεντάν
(pop: 1,751,000) -->
Δείτε κοντινούς σεισμούς!
330 km (205 mi) ΝΔ of Percut
(pop: 311,100) -->
Δείτε κοντινούς σεισμούς!
359 km (223 mi) ΝΑ of Μπάντα Άτσεχ
(pop: 250,800) -->
Δείτε κοντινούς σεισμούς!
218 km (135 mi) ΒΔ of Nias Island
(pop: 756,300) -->
Δείτε κοντινούς σεισμούς!
Weather at epicenter at time of quake:
Overcast Clouds
27.8°C
(82 F), humidity: 77%, wind: 1 m/s (2 kts) from SW
Κύρια πηγή δεδομένων:
BMKG
(Meteorological, Climatological, and Geophysical Agency of Indonesia)
Estimated released energy:
1 x 10
12
joules (278 megawatt hours, ισοδυναμεί με 239 τόνους TNT) |
about seismic energy
Data for the same earthquake reported by different agencies
Info: The more agencies report about the same quake and post similar data, the more confidence you can have in the data. It takes normally up to a few hours until earthquake parameters are calculated with near-optimum precision.
| | | | |
| --- | --- | --- | --- |
| Mag. | Βάθος | Τοποθεσία | Πηγή |
| 4.8 | 10 km | Northern Sumatra, Indonesia | BMKG |
| 4.8 | 30 km | SIMEULUE, INDONESIA | EMSC |
| 4.8 | 19 km | Northern Sumatra, Indonesia | GFZ |
User reports for this quake
There are no user reports for this quake.
Δοκιμάστε τη δωρεάν εφαρμογή μας!