Αδύναμος σεισμός μεγέθους 2.0 - 12 km ανατολικά από Αθήνα, Athína, Αττική, Ελλάδα, Σάββατο, 22 Ιαν 2022 05:39 (GMT +2) -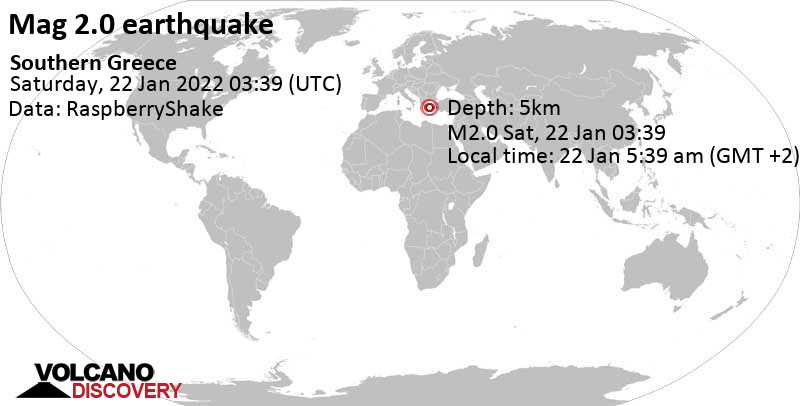 Αδύναμος σεισμός μεγέθους 2.0 σε βάθος 5 χλμ
22 Jan 03:44 UTC: Πρώτα να αναφέρει: RaspberryShake after 5 λεπτά.
Λεπτομέρειες σεισμού
Ημερομηνία και ώρα
22 Jan 2022 03:39:26 UTC -
Τοπική ώρα

στο επίκεντρο

Σάβ, 22 Ιαν 2022 05:39 (GMT +2)
Status
Επιβεβαιωμένος
Μέγεθος
2
Βάθος
5.0 km
Επίκεντρο

γεωγραφικό πλάτος / γεωγραφικό μήκος

37.9752°N / 23.86213°E (Nomarchia Anatolikis Attikis, Αττική, Ελλάδα)
Antipode
37.975°S / 156.138°W
Ένταση δονήσεων
Ελάχιστα αισθητός
Αισθητός
0 αναφορές
Κύρια πηγή δεδομένων
RaspberryShake (RaspberryShake)
Πλησιέστερα ηφαίστειο
Methana (61 km / 38 mi)
Κοντινά μέρη
12 km (7 mi) Α of Αθήνα (pop: 664,000) |

Στον χάρτη

| Σεισμοί κοντά
Ο καιρός στο επίκεντρο

την ώρα του σεισμού

Overcast Clouds 4.7°C (40 F), humidity: 81%, wind: 3 m/s (6 kts) from N
Εκτιμώμενη

εκλυόμενη

σεισμική ενέργεια
6.3 x 107 joules (17.5 kilowatt hours) | about seismic energy
Data for the same earthquake reported by different agencies
Info: The more agencies report about the same quake and post similar data, the more confidence you can have in the data. It takes normally up to a few hours until earthquake parameters are calculated with near-optimum precision.
User reports for this quake
At magnitude 2.0, such a quake wouldn't normally be felt by people except under very favorable conditions.
There are no user reports for this quake.
Δοκιμάστε τη δωρεάν εφαρμογή μας!