Ελαφρύς σεισμός μεγέθους 4.7 - South Pacific Ocean, Νέα Ζηλανδία, Παρασκευή, 28 Ιαν 2022 19:40 (GMT -12) -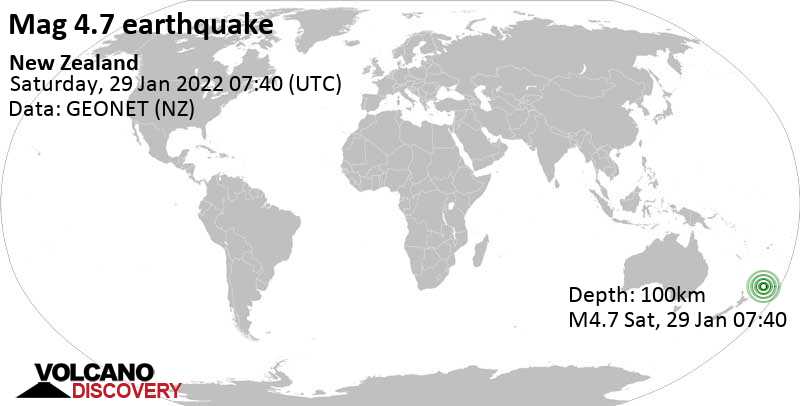 Ελαφρύς σεισμός μεγέθους 4.7 σε βάθος 100 χλμ
29 Jan 07:59 UTC: Πρώτα να αναφέρει: GEONET (NZ) after 19 λεπτά.
29 Jan 08:10: Magnitude recalculated from 4.9 to 4.7. Epicenter location corrected by 6.6 km (4.1 mi) towards W.
Ημερομηνία & time:
29 Jan 2022 07:40:03 UTC -
Τοπική ώρα στο επίκεντρο:
Παρ, 28 Ιαν 2022 19:40 (GMT -12)
Μέγεθος: 4.7
Βάθος: 100.0 km
Επίκεντρο γεωγραφικό πλάτος / γεωγραφικό μήκος:
33.23112°S / 178.02591°W
(
South Pacific Ocean
,
Νέα Ζηλανδία
)
Antipode:
33.231°N / 1.974°E
Πλησιέστερα ηφαίστειο:
Volcano W
(188 km / 117 mi)
Weather at epicenter at time of quake:
Overcast Clouds
20°C
(68 F), humidity: 67%, wind: 8 m/s (16 kts) from ESE
Κύρια πηγή δεδομένων:
GEONET (NZ)
(Earthquake Commission and Geological Survey, New Zealand)
Estimated released energy:
7.1 x 10
11
joules (197 megawatt hours, ισοδυναμεί με 169 τόνους TNT) |
about seismic energy
Data for the same earthquake reported by different agencies
Info: The more agencies report about the same quake and post similar data, the more confidence you can have in the data. It takes normally up to a few hours until earthquake parameters are calculated with near-optimum precision.
User reports for this quake
There are no user reports for this quake.
Δοκιμάστε τη δωρεάν εφαρμογή μας!