Μέτριος σεισμός μεγέθους 4.4 - Hormozgan, 59 km νοτιοανατολικά από Mohr, Fars, Ιράν, Παρασκευή, 22 Ιου 2022 22:48 (GMT +4:30) -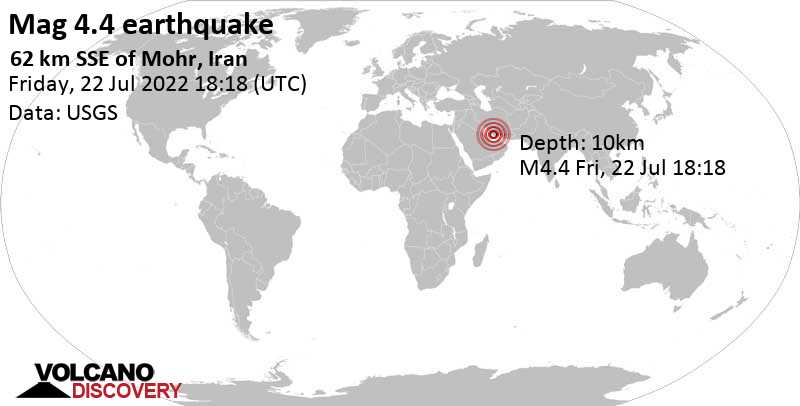 Μέτριος σεισμός μεγέθους 4.4 σε βάθος 10 χλμ
22 Jul 18:27 UTC: Πρώτα να αναφέρει: GFZ after 9 λεπτά.
23 Jul 15:48: Now using data updates from USGS
Update Fri, 22 Jul 2022, 18:33
Moderate magnitude 4.3 quake hits 66 km southeast of Mohr, Iran late at night
4.3 quake 22 Jul 10:48 pm (GMT +4:30)
A shallow magnitude 4.3 earthquake was reported late at night near Mohr, Fars, Iran.
According to the German Research Centre for Geosciences (GFZ), the quake hit on Friday, July 22nd, 2022, at 10:18 pm local time at a shallow depth of 10 km. Shallow earthquakes are felt more strongly than deeper ones as they are closer to the surface. The exact magnitude, epicenter, and depth of the quake might be revised within the next few hours or minutes as seismologists review data and refine their calculations, or as other agencies issue their report.
A second report was later issued by the citizen-seismograph network of RaspberryShake, which listed it as a magnitude 4.3 earthquake as well. A third agency, the European-Mediterranean Seismological Centre (EMSC), reported the same quake at magnitude 4.3.
Towns or cities near the epicenter where the quake might have been felt as very weak shaking include Mohr (pop. 35,000) located 66 km from the epicenter, and Kīsh (pop. 20,900) 98 km away.
VolcanoDiscovery will automatically update magnitude and depth if these change and follow up if other significant news about the quake become available. If you're in the area, please send us your experience through our reporting mechanism, either
online
or via
our mobile app
. This will help us provide more first-hand updates to anyone around the globe who wants to know more about this quake.
Λεπτομέρειες σεισμού
Ημερομηνία και ώρα
22 Jul 2022 18:18:49 UTC -
Τοπική ώρα

στο επίκεντρο

Παρ, 22 Ιου 2022 22:48 (GMT +4:30)
Status
Επιβεβαιωμένος
Μέγεθος
4.4
Βάθος
10.0 km
Επίκεντρο

γεωγραφικό πλάτος / γεωγραφικό μήκος

27.1165°N / 53.228°E (Hormozgan, Ιράν)
Antipode
27.117°S / 126.772°W
Ένταση δονήσεων
Ασθενής
Αισθητός
1 αναφορά
Κύρια πηγή δεδομένων
USGS (United States Geological Survey)
Κοντινά μέρη
59 km (37 mi) ΝΑ of Mohr (Fars) (pop: 35,000) |

Στον χάρτη

| Σεισμοί κοντά
100 km (62 mi) ΒΔ of Kīsh (Kish) (pop: 20,900) |

Στον χάρτη

| Σεισμοί κοντά
109 km (68 mi) ΝΔ of Gerāsh (Gerash, Fars) (pop: 25,300) |

Στον χάρτη

| Σεισμοί κοντά
265 km (165 mi) ΒΑ of Ντόχα (Baladīyat ad Dawḩah, Κατάρ) (pop: 344,900) |

Στον χάρτη

| Σεισμοί κοντά
281 km (174 mi) ΒΑ of Μανάμα (Manama, Μπαχρέιν) (pop: 147,100) |

Στον χάρτη

| Σεισμοί κοντά
286 km (177 mi) ΝΑ of Σιράζ (Fars) (pop: 1,249,900) |

Στον χάρτη

| Σεισμοί κοντά
302 km (188 mi) Δ of Μπαντάρ Αμπάς (pop: 352,200) |

Στον χάρτη

| Σεισμοί κοντά
969 km (602 mi) Ν of Τεχεράνη (Tehran) (pop: 7,153,300) |

Στον χάρτη

| Σεισμοί κοντά
Εκτιμώμενη

εκλυόμενη

σεισμική ενέργεια
2.5 x 1011 joules (69.8 megawatt hours, ισοδυναμεί με 60 τόνους TNT) | about seismic energy
Data for the same earthquake reported by different agencies
Info: The more agencies report about the same quake and post similar data, the more confidence you can have in the data. It takes normally up to a few hours until earthquake parameters are calculated with near-optimum precision.
| | | | |
| --- | --- | --- | --- |
| Mag. | Βάθος | Τοποθεσία | Πηγή |
| 4.4 | 10 km | 59 Km SE of Mohr, Iran | USGS |
| 4.6 | 30 km | SOUTHERN IRAN | EMSC |
| 4.4 | 10 km | Southern Iran | RaspberryShake |
| 4.1 | 10 km | Iran: 25 Km of Bandar Maqam, Hormozgan | IRSC |
| 4.3 | 10 km | Southern Iran | GFZ |
User reports for this quake (1)
Dubai / Weak shaking (MMI III) / horizontal (sideways) swinging / 20-30 s