Μικρός σεισμός μεγέθους 2.2 - Santander, 20 km νοτιοδυτικά από Pamplona, Κολομβία, Παρασκευή, 30 Σεπ 2022 10:16 (GMT -5) -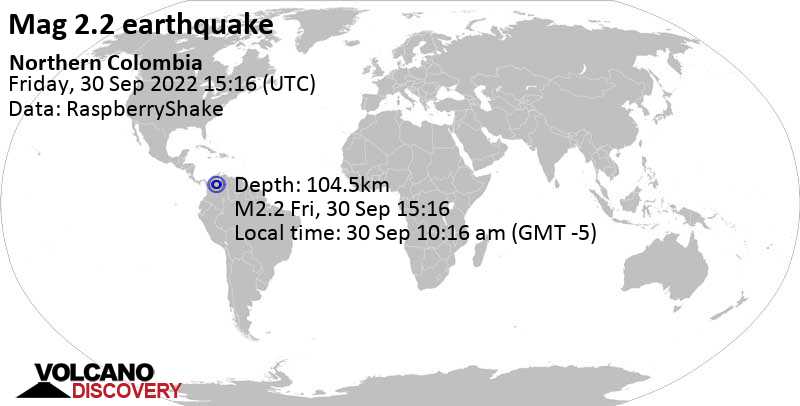 Μικρός σεισμός μεγέθους 2.2 σε βάθος 105 χλμ
30 Sep 15:24 UTC: Πρώτα να αναφέρει: RaspberryShake after 8 λεπτά.
Λεπτομέρειες σεισμού
Ημερομηνία και ώρα
30 Sep 2022 15:16:24 UTC -
Τοπική ώρα

στο επίκεντρο

Παρ, 30 Σεπ 2022 10:16 (GMT -5)
Status
Επιβεβαιωμένος
Μέγεθος
2.2
Βάθος
104.5 km
Επίκεντρο

γεωγραφικό πλάτος / γεωγραφικό μήκος

7.302°N / 72.818°W (Vetas, Santander, Κολομβία)
Antipode
7.302°S / 107.182°E
Ένταση δονήσεων
Μη αισθητός
Κύρια πηγή δεδομένων
RaspberryShake (RaspberryShake)
Κοντινά μέρη
6 km (4 mi) Α of Vetas (pop: 1,210) |

Στον χάρτη

| Σεισμοί κοντά
20 km (13 mi) ΝΔ of Pamplona (Norte de Santander) (pop: 53,600) |

Στον χάρτη

| Σεισμοί κοντά
39 km (24 mi) ΒΑ of Bucaramanga (pop: 571,800) |

Στον χάρτη

| Σεισμοί κοντά
40 km (25 mi) ΒΑ of Floridablanca (pop: 252,300) |

Στον χάρτη

| Σεισμοί κοντά
43 km (27 mi) ΒΑ of Piedecuesta (pop: 86,400) |

Στον χάρτη

| Σεισμοί κοντά
47 km (29 mi) ΒΑ of Giron (pop: 108,500) |

Στον χάρτη

| Σεισμοί κοντά
74 km (46 mi) ΝΔ of San Jose de Cucuta (Norte de Santander) (pop: 721,400) |

Στον χάρτη

| Σεισμοί κοντά
330 km (205 mi) ΒΑ of Μπογκοτά (Bogotá D.C.) (pop: 7,674,400) |

Στον χάρτη

| Σεισμοί κοντά
Ο καιρός στο επίκεντρο

την ώρα του σεισμού

Overcast Clouds 3.9°C (39 F), humidity: 83%, wind: 1 m/s (2 kts) from NE
Εκτιμώμενη

εκλυόμενη

σεισμική ενέργεια
1.3 x 108 joules (35 kilowatt hours) | about seismic energy
Data for the same earthquake reported by different agencies
Info: The more agencies report about the same quake and post similar data, the more confidence you can have in the data. It takes normally up to a few hours until earthquake parameters are calculated with near-optimum precision.
Seismograms
Seismic station: La Rusia, Boyaca, Colombia (RUS/CM network)
| Distance from quake: 159 km / 99 mi |
Show on map
|
Station Info
Seismogram (vertical component) around time of quake. Thin dotted red line indicates time of quake. Seismic waves arrive some time later, depending on distance. Source:
IRIS Buffer of Uniform Data (BUD) webtool
User reports for this quake
At magnitude 2.2, such a quake wouldn't normally be felt by people except under very favorable conditions.
There are no user reports for this quake.