Ελαφρύς σεισμός μεγέθους 4.0 - South Pacific Ocean, Νέα Ζηλανδία, Παρασκευή, 2 Δεκ 2022 13:14 (GMT +13) -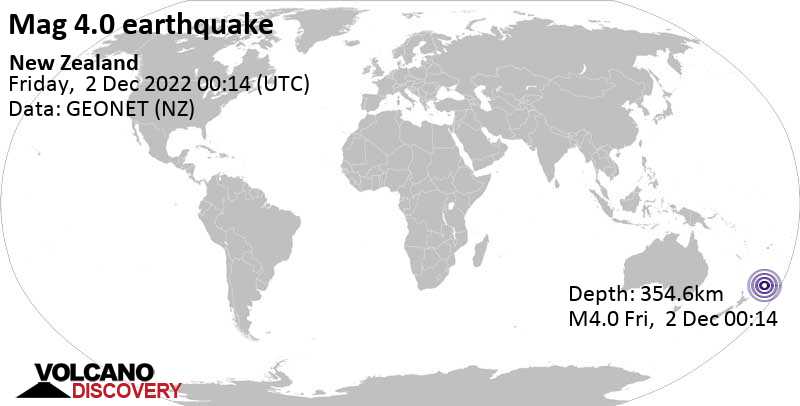 Ελαφρύς σεισμός μεγέθους 4.0 σε βάθος 355 χλμ
2 Dec 00:19 UTC: Πρώτα να αναφέρει: GEONET (NZ) after 5 λεπτά.
2 Dec 00:23: Magnitude recalculated from 4.2 to 4.0. Hypocenter depth recalculated from 423.2 to 354.6 km (from 263 to 220 mi). Epicenter location corrected by 112 km (69 mi) towards E.
Λεπτομέρειες σεισμού
Ημερομηνία και ώρα
2 Dec 2022 00:14:11 UTC -
Τοπική ώρα

στο επίκεντρο

Παρ, 2 Δεκ 2022 13:14 (GMT +13)
Status
Επιβεβαιωμένος
Μέγεθος
4
Βάθος
354.6 km
Επίκεντρο

γεωγραφικό πλάτος / γεωγραφικό μήκος

32.78247°S / 177.80394°W (South Pacific Ocean, Νέα Ζηλανδία)
Antipode
32.782°N / 2.196°E
Ένταση δονήσεων
Μη αισθητός
Κύρια πηγή δεδομένων
GEONET (NZ) (Earthquake Commission and Geological Survey, New Zealand)
Πλησιέστερα ηφαίστειο
Volcano W (166 km / 103 mi)
Κοντινά μέρη
Ο καιρός στο επίκεντρο

την ώρα του σεισμού

Overcast Clouds 18.4°C (65 F), humidity: 68%, wind: 8 m/s (16 kts) from WSW
Εκτιμώμενη

εκλυόμενη

σεισμική ενέργεια
6.3 x 1010 joules (17.5 megawatt hours, ισοδυναμεί με 15.1 τόνους TNT) | about seismic energy
Data for the same earthquake reported by different agencies
Info: The more agencies report about the same quake and post similar data, the more confidence you can have in the data. It takes normally up to a few hours until earthquake parameters are calculated with near-optimum precision.
Seismograms
Seismic station: South Karori, New Zealand (SNZO/IU network)
| Distance from quake: 1157 km / 719 mi |
Show on map
|
Station Info
Seismogram (vertical component) around time of quake. Thin dotted red line indicates time of quake. Seismic waves arrive some time later, depending on distance. Bandpass filter applied: 0.2-5.0 Hz. Source:
IRIS Buffer of Uniform Data (BUD) webtool
User reports for this quake
There are no user reports for this quake.