El Valle volcano
stratovolcano 1185 m / 3,888 ft
Panamá, 8.58°N / -80.17°W
Current status: (probably) extinct (0 out of 5)
El Valle volcano is a (perhaps still active) stratovolcano 80 km SW of Panama City. The volcano has a broad shape and is cut by the 6 km wide El Valle de Antón caldera, which formed about 56,000 years ago.
Lava domes that grew inside the caldera include the Cerro Pajita, Cerro Gaital, and Cerro Caracoral dome complex.
Typical eruption style
: effusive
El Valle volcano eruptions
: about 13,000 years ago
Latest nearby earthquakes
| | | |
| --- | --- | --- |
| Time | Mag. / Depth | Distance/Location |
Background
El Valle volcano is a broad stratovolcano cut by a large compound Pleistocene caldera. The 6-km-wide El Valle de Antón caldera was formed about 56,000 years ago in association with eruption of the dacitic El Hato pyroclastic flows. The caldera has steep, 200-300 m high walls overlooking a flat floor underlain by deposits of a former caldera lake and currently occupied by the town of El Valle.
Cerro Pajita, Cerro Gaital, and Cerro Caracoral form a dacitic lava dome complex that was constructed along an E-W-trending lineament within the caldera and forms the 1185 m high point of the volcano.
Major phreatomagmatic plinian eruptions produced when magma interacted with caldera-lake water as recently as about 34,600 years ago generated pyroclastic flows that reached the Pacific coast, 25 km to the south. Phreatic eruptions have occurred since then (the most recent dated eruption took place about 13,000 years ago), and activity may have continued into the Holocene.
A geothermal exploration program is currently underway to evaluate the energy potential of the caldera.
---
from: Smithsonian / GVP volcano information
El Valle Photos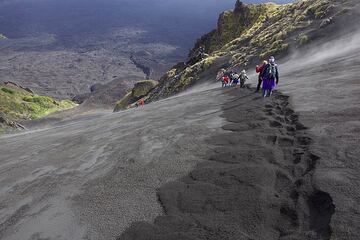 Descending into Valle del Bove, Etna volcano, Italy (Photo: Tom Pfeiffer)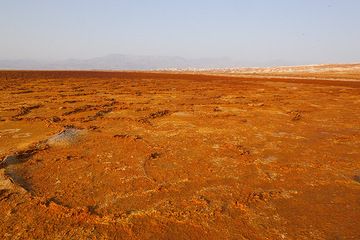 The dry salt crust of the salt lake is colored red from dust and orange salts. The high walls of the Rift Valley are in the background. The the right; the eroded salt tow...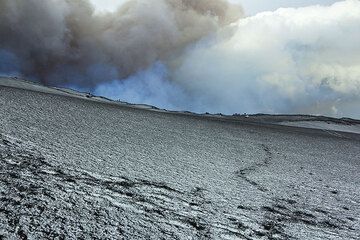 People have walked to the rim of the Valle del Bove, to see the lava flow. Clouds, ash and gas draw dramatic shapes into the sky above Valle del Bove. (Photo: Tom Pfeiffe...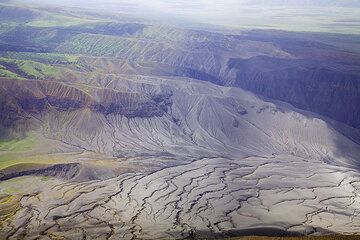 Ash falls from eruptions during the past weeks have been concentrated in a sector west of the volcano according to prevailing easterly winds. Much of the vegetation on th...

See also: Sentinel hub | Landsat 8