Erta Ale Volcano Videos
Shield volcano 613 m / 2,011 ft
Danakil depression, Ethiopia, 13.6°N / 40.66°E
Lava flow on Erta Ale volcano (Ethiopia) close-up (16 Jan 2017 morning)
Erta Ale volcano's active lava lake started an overflow episode on the morning of 16 January 2017, just shortly after one of our recent tour groups arrived there. Participant Paul took a series of videos from this event. This one shows one lava flow a bit further from its source at the lava lake, where the lava has slowed and produces folded pahoehoe. Video copyright: Paul Reichert
Lava lake boils over - Erta Ale volcano (Ethiopia) 17 Jan 2017
Erta Ale volcano's active lava literally boils over during 17 Jan 2017. A surge in magma causes a massive overflow at extremely high volume rate on all sides of the lava lake. Floods of lava pour into the caldera. Video copyright: Paul Reichert
Fireworks at Erta Ale volcano, Nov 2010
This is how the lava lake looked at night standing on the old crater rim, about 50 meters away and now lower than the lake itself, contained within an unstable ring wall. The explosind gas bubbles throw spatter to 20-30 meters height, and it looks rather than continuous strombolian activity...
Overflowing boiling lava lake of Erta Ale volcano
ethiopia_0140.avi
The lava lake of Erta Ale volcano overflows (Danakil desert, Ethiopia) Nov 2010
ethiopia_0018.avi
More on VolcanoDiscovery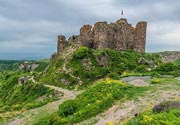 Photos from Armenia
: Armenia is a very photogenic country with a large variety of landscapes showing some very spectacular geology, century-old monasteries and castles, and much more.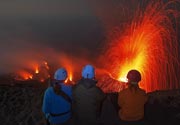 VolcanoDiscovery tours
: A selection of our most popular trips, which we have been offering and improving over many years now: Stromboli & Etna, Santorini, Java, Ethiopia, Nyiragongo and more. Have a look!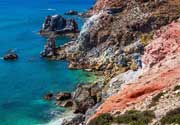 Island of Venus
: Milos Island in Greece is one of the most beautiful and photogenic islands of the Mediterranean. Its boasts breathtaking scenery of colorful volcanic rocks, some of the finest beaches of the country, a rich archeological heritage, great hospitality and delicious local cuisine. Come join us to explore this magical island on a 6-days geological tour!