Erta Ale volcano webcams and live data:
Shield volcano 613 m / 2,011 ft
Danakil depression, Ethiopia, 13.6°N / 40.66°E
Available webcams:
Heat emission signal from Erta Ale (MIROVA / MODIS) (
source
)
See also:
Sentinel hub
|
Landsat 8
More on VolcanoDiscovery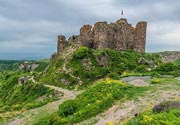 Photos from Armenia
: Armenia is a very photogenic country with a large variety of landscapes showing some very spectacular geology, century-old monasteries and castles, and much more.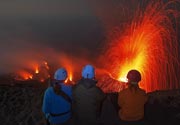 VolcanoDiscovery tours
: A selection of our most popular trips, which we have been offering and improving over many years now: Stromboli & Etna, Santorini, Java, Ethiopia, Nyiragongo and more. Have a look!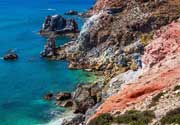 Island of Venus
: Milos Island in Greece is one of the most beautiful and photogenic islands of the Mediterranean. Its boasts breathtaking scenery of colorful volcanic rocks, some of the finest beaches of the country, a rich archeological heritage, great hospitality and delicious local cuisine. Come join us to explore this magical island on a 6-days geological tour!