Asuncion volcano
Stratovolcano 857 m / 2,812 ft
United States, Mariana Islands, 19.67°N / 145.41°E
Current status: normal or dormant (1 out of 5)
Typical eruption style
: sin especificar
Erupciones del volcán Asuncion
: 1906
Latest nearby earthquakes
Background
A single large asymmetrical stratovolcano, steeper on the NE side, forms 3-km-wide Asuncion Island. The steep NE flank of the 857-m-high volcano terminates in high sea cliffs. The gentler SW flanks have low-angle slopes bounded by sea cliffs only a few meters high. The southern flank of the volcano is cut by a large landslide scar. The southern flanks and western flanks of the volcano are mantled by ash deposits that may have originated during eruptions in historical time. An explosive eruption in 1906 also produced lava flows that descended about half way down the western and SE flanks, but several other historical eruption reports are of uncertain validity.
---
Smithsonian / GVP volcano information
See also:
Sentinel hub
|
Landsat 8
Más en VolcanoDiscovery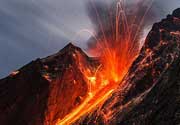 Tours to erupting volcanoes
: From time to time, we organize special tours to see volcanoes in eruption. These are often announced only few days or weeks in advance. Find out more!
Become a supporter
: To continue to run this website full of free information about earthquakes and volcanoes to you, we also need to pay our developer, servers and in addition, we spend lots of our free time on it. If you enjoy it, we will greatly appreciate your support. If you like, you can send us a small donation.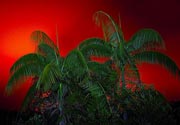 Vanuatu Volcano Tours
: One of the most exciting volcano travel destinations in the world! On our adventurous expeditions, you will get close to active lava lakes on Ambrym Island and the spectacular fireworks of Yasur volcano on Tanna Island.