Bagana volcano: news and activity updates
vie, 7 abr 2006, 11:10
During the past weeks, Bagana volcano remained weakly active, with small strombolian activity and a lava flow traveling down on its SSW flank. On 27 March an ash cloud was emitted.
Más en VolcanoDiscovery: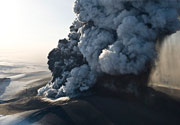 Eyjafjallajökull volcano photos
: The volcano in Iceland with the unpronounceable name... but famous in 2010 when its ash clouds drifted over Europe and forced a unprecedented large-scale airspace closure for several days, stranding millions of passengers.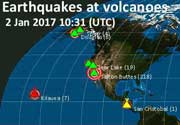 Earthquakes near Volcanoes
: Our world-wide map continuously detects shallow earthquakes near volcanoes. These could be early signs of unrest and often precede eruptions.