Blue Lake Crater volcano
estratovolcán 1230 m / 4,035 ft
Oregon (Canada and USA (mainland)), 44.41°N / -121.77°W
Current status: normal or dormant (1 out of 5)
Blue Lake is a series of at least 3 overlapping explosion craters (maars), located along a NE trend slightly east of the crest of the Cascade Range. The best-known crater, Blue Lake Crater contains a blue lake (800m x 300m) and is probably the youngest. It formed by an eruption about 1300 years ago. It lies immediately west of the popular recreation area of Suttle Lake.
Typical eruption style:
Explosivos
Erupciones del volcán Blue Lake Crater:
680 AD ± 200 years
Lastest nearby earthquakes:
No hay terremotos recientes
Background
A chain of spatter cones 6 km to the SSW and about 4 km NE of Mount Washington aligned with Blue Lake crater. Its lavas are similar to those found at Blue Lake, suggesting that this row of vents may have been erupted at the same time and was fed by the same magma chamber.
Blue Lake Crater Fotos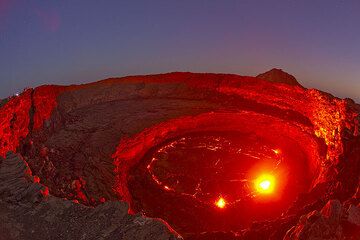 El resplandor rojo de la lava ilumina las paredes del cráter bajo el cielo azul del anochecer. Un pequeño grupo de observadores está en el borde del cráter izquierdo. (Ph...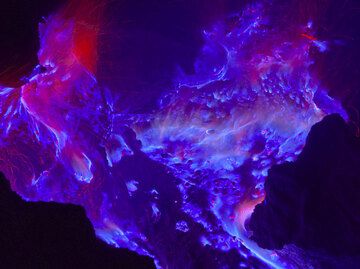 Llamas azules. Respiración sólo era posible con una buena máscara de gas y estar cerca del azufre ardiente sólo fue posible por un tiempo muy corto. (Photo: Andi Rosadi)...

See also: Sentinel hub | Landsat 8 | NASA FIRMS