Colima volcano (Mexico), Jan 2016: eruptions
During our
Colima Volcano Special
in January 2016, we spent several days and nights to observe the volcano's ongoing intermittent explosive activity.
Due to reasons not well understood, Colima's eruptions in the past few months have been unusually rich in eruption lightnings that develop in the ash plumes, even during smaller explosions, something that had not been observed during a phase of similarly intense explosive activity
a year ago
(photos).
Más en VolcanoDiscovery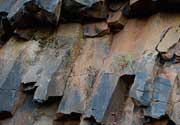 Igneous or magmatic rocks
: The most primitive rock type forms when magma (molten rock) solidifies - either inside the earth (plutonic rocks) or during volcanic eruptions (volcanic rocks). A short overview.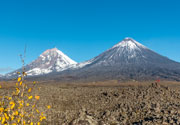 Land of Colors
: We still have spots free on the tours to Kamchata's volcanoes in Aug & Sep 2020! Both tours will be accompanied by a volcanologist from our team. A country full of colors and adventures is waiting for you!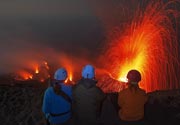 VolcanoDiscovery tours
: A selection of our most popular trips, which we have been offering and improving over many years now: Stromboli & Etna, Santorini, Java, Ethiopia, Nyiragongo and more. Have a look!