Karthala volcano
Actualizado: 7 feb. 2023 21:25 GMT
-
Shield volcano 2361 m (7,746 ft)
Comores, western Indian Ocean, -11.77°S / 43.36°E
Current status: restless (2 out of 5)
Last update: 5 oct 2022 (Smithsonian / USGS Weekly Volcanic Activity Report)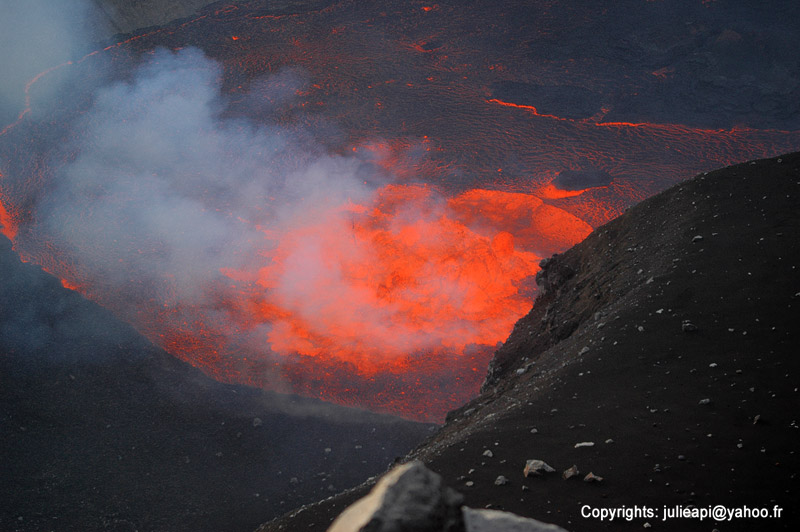 Karthala with the lava lake in the summit crater (2006 eruption)
Karthala is a large shield volcano with a summit caldera on La Grande Island of the Comores in the western Indian Ocean. It erupts every few years and often produces voluminous lava flows and sometimes has a lava lake in the crater of the caldera.
Typical eruption style:
Effusive. Temporary lava lakes.
Erupciones del volcán Karthala:
1808, 1814, 1821, 1828, 1830, 1833, 1848, 1850, 1855, 1857, 1858, 1859, 1860, 1862(?), 1872, 1876, 1880, 1883-84, 1904, 1910, 1918, 1928, 1948, 1952, 1956, 1965, 1972, 1977, 1991, 2005, 2005, 2006
Latest nearby earthquakes
No hay terremotos recientes
Background
Karthala, a typical and very active shield volcano, forms the southern part of the Comores island La Grande Comore (also known as Ngazidja Island). It erupted twice in 2005 and caused major problems due to extensive ash fall and contamination of drinking water.

Karthala has an elongated 3 x 4 km summit caldera created by repeated collapse, and has elongated rift zones extend to the NNW and SE from the summit. Historical eruptions both from summit and flank vents have repeatedly modified the shape of the caldera. Many lava flows have reached the sea on both sides of the island. A lava flow during the euption in 1860 traveled from the summit caldera about 13 km to the NW, reached the sea at the western coast north of the capital city of Moroni.
Karthala Fotos
karthala_vulkan.jpg (c)
karthala_chahale_sud.jpg (c)
karthala_chagnoumeni.jpg (c)
karthala_cratere.jpg (c)




See also: Sentinel hub | Landsat 8 | NASA FIRMS