Cuicocha volcano
Last update:
29 Feb 2020 (Increase in seismicity, but no cause for concern)
Typical eruption style
: explosive
Erupciones del volcán Cuicocha
: 650 AD (?)
| | | | |
| --- | --- | --- | --- |
| Fecha / Hora | Revista / Profundidad | Distancia | Ubicación |
Cuicocha volcano is a beautiful caldera in northern Ecuador 100 km north of Quito. The volcano has a 3 km wide lake filled caldera and sits at the feet of the sharp-peaked (extinct) Cotacachi stratovolcano.
There are gas emissions from several locations in the caldera lake at present indicating the volcano is still active.
Background:
Both Cotacachi and Cuicocha volcanoes are located on the Otavalo-Umpalá fracture zone.
Eruptive activity at Cuicocha began about 4500 years ago and continued until about 1300 years ago. The caldera of Cuicocha formed during a Plinian (major explosive) eruption as recent as ca. 3100 years ago, which erupted about 5 cubic km of tephra (both fall and pyroclastic flow deposits), comparable to Mt. St. Helens in 1980.
4 lava domes have formed inside the caldera after its formation and form 2 small forested islands in lake. An older dome is located on the east flank of the volcano.
Pyroclastic-flow deposits cover wide areas around the low-rimmed caldera, primarily to the east.
Cuicocha caldera lake changes
Cuicocha caldera lake is 148 m deep and fed by both rain water and hydrothermal water. After an earthquake in 1987, its water level dropped rapidly over several weeks, at a rate that has been reaching 30 cm per year. Approximately 3000 cubic m of lake water per day are lost by percolation into fractures and fissures of the bedrock.
The lake temperature continues to increase at a rate of 0.1 deg C per year. Divers have observed inflow of warm hydrothermal water at zone of 78 depth in the western part of the lake, which indicates potential future activity at the volcano, in particular a limnic eruption.
Sources:
-
Smithsonian / GVP volcano information
- Gunkel et al (2009) "Survey and assessment of post volcanic activities of a young caldera lake, Lake Cuicocha, Ecuador", Nat. Hazards Earth Syst. Sci., 9, 699–712
See also:
Sentinel hub
|
Landsat 8
Más en VolcanoDiscovery
If you find the website useful and would like to support us and help keep it alive and improve it, please consider
making a small donation
.
Thank you!
Best tours to see lava
: Visiting an erupting volcano is an unforgettable experience. If you're particularly looking to see "Red Hot Lava", these are among the best places to go to.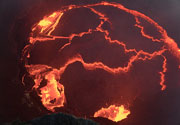 Photos from lava lakes in the world: Erta Ale, Nyiragongo, Hawaii, Vanuatu