Dar-Alages volcano
conos de escoria 3329 m
Armenia, 39.8°N / 45.5°E
Current status: normal or dormant (1 out of 5)
A group of six cinder and lava cones of Pleistocene-to-Holocene age is located in southern Armenia on the western slopes of the Vardeniss volcanic ridge, south of Lake Sevan.
Typical eruption style
: explosive
Erupciones del volcán Dar-Alages
: none in historic times (?)
Latest nearby earthquakes
| | | |
| --- | --- | --- |
| Fecha / Hora | Revista / Profundidad | Distancia/Ubicación |
Background
The andesitic Dar-Alages volcano, also known as Daly-Tapa, formed in postglacial times (Sviatlovsky, 1959). The Vaiyots-Sar and Smbatassar pyroclastic cones of Holocene age (Karakhanian et al., 2002) are located in this part of the Vardeniss volcanic ridge. Vaiyots-Sar volcano lies just north of the major Areni-Zanghezour Fault, near the town of Vaik, and produced a fissure-fed lava flow several thousand years ago that dammed the Arpah River and flowed to the west for 6 km. The youthful-looking Smbatassar cinder cone is located 17 km to the NW and produced lava flows that traveled 11 and 17 km north and south, respectively.
Dar-Alages Fotos
La explosión más grande observada de cerca se produjo a las 23h 33 (14:33 UTC) - aunque la erupción no fue mencionada en Tokio VVAC, el penacho de ceniza fue al menos tan...
Strombolian eruption at Mt. Bromo volcano in Feb 2011 - this photo was selected for the 2012 IAVCEI volcano calendar. (Photo: Tom Pfeiffer)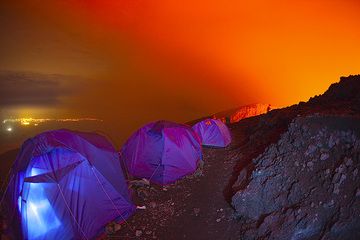 Es hora de despertar y disfrutar de la última hora de la oscuridad antes del amanecer! Como de costumbre, Gilles es ya antes todos los demás y de pie en el crat... (Photo...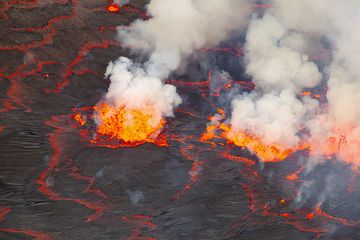 In lower light, the contrast of the lava and the dark surface of the barely cooled crust becomes stronger. (Photo: Tom Pfeiffer)

See also: Sentinel hub | Landsat 8