Major mag. 7.8 earthquake - 105 km SSE of Perryville, Alaska (USA) on Wednesday, 22 July 2020 - information
Update Wed 22 Jul 2020 06:35
Tsunami warning:
National Tsunami Warning Center issued a tsunami alert.
Tsunami Warning in Effect for: * SOUTH ALASKA AND THE ALASKA PENINSULA, Pacific coasts from
   Kennedy Entrance, Alaska (40 miles SW of Homer) to Unimak
   Pass, Alaska (80 miles NE of Unalaska)

For current updates, check
www.tsunami.gov
-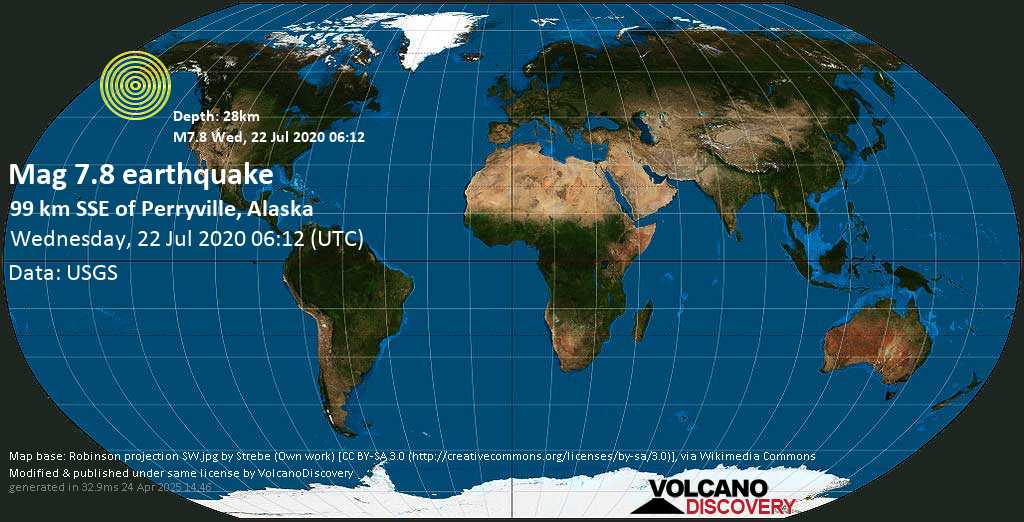 Major magnitude 7.8 earthquake at 28 km depth
22 Jul 06:21 UTC: Primero en informar: USGS después de 8 minutos.
Jul 22 06:30: Magnitud recalculada de 7.4 a 7.8.
Profundidad recalculada de 13.0 a 10.0 km.
Profundidad recalculada de 10.0 a 28.0 km.
Fecha & hora: 22 Jul 2020 06:12:44 UTC -
Magnitud: 7.8
Profundidad: 28.0 km
Epicentro latitud / longitud: 55,0298°N / 158,5217°W
(Alaska,
Estados Unidos
)
Volcán mas cercano:
Kupreanof
(116 km / 72 mi)
Nearby towns and cities:
106 km al SSE de Perryville (Lake and Peninsula County)
(pop: 113)
130 km al ESE de Sand Point (Aleutians East County)
(pop: 1,060)
137 km al S de Chignik Lake (Lake and Peninsula County)
(pop: 73)
141 km al S de Chignik (Lake and Peninsula County)
(pop: 87)
242 km al E de King Cove (Aleutians East County)
(pop: 1,010)
485 km al SW de Kodiak
(pop: 6,250)
736 km al SW de Kalifornsky (Kenai Peninsula County)
(pop: 7,850)
1509 km al W de Juneau
(pop: 32,800)
Fuente primaria de datos:
USGS
Energía liberada estimada: 3,2 x 10
16
joules (8784 gigawatt hours, equivalent to 7,6 x 10
6
tons of TNT or 472,4 atomic bombs!) [
aprende más
]
Data for the same earthquake reported by different agencies
Info: The more agencies report about the same quake and post similar data, the more confidence you can have in the data. It takes normally up to a few hours until earthquake parameters are calculated with near-optimum precision.
| | | | |
| --- | --- | --- | --- |
| Magnitud | Profundidad | Ubicación | Fuente |
| M 7.8 | 28 km | 105 km SSE of Perryville, Alaska (USA) | USGS |
| M 7.8 | 30 km | Alaska Peninsula (USA) | GFZ |
| M 7.8 | 30 km | Alaska Peninsula (USA) | EMSC |
| M 7.8 | 22 km | Alaska Peninsula (USA) | GeoAu |
| M 7.7 | 20 km | Alaska Peninsula, United States [Sea: United States] (USA) | INGV |
| M 7.6 | 26 km | Alaska Peninsula (USA) | BMKG |
User reports for this quake (56)
Aftershocks of the M 7.8 terremoto: 105 Km SSE of Perryville, Alaska (USA) Wed, 22 Jul 06h12
More info
Recorded aftershocks, latest first (568 quakes):
Earlier earthquakes in the same area since 1900
Muy fuerte terremoto magnitud 7.8 - 105 Km SSE of Perryville, Alaska (USA), miércoles, 22 jul. 2020
Hint: Click on Date/Time to show latest first

Date / time UTC

|

Mag

|

Profundidad

|

Age

|

Distancia

| Details

28 mar 1964 03:36

|

9.2

|

25km / 16mi

|

hace 57 años

|

926km / 576mi

| 1964 Prince William Sound Earthquake, Alaska (USA)

01 abr 1946 12:29

|

8.6

|

15km / 9,3mi

|

hace 75 años

|

328km / 204mi

| 1946 Aleutian Islands (Unimak Island) Earthquake, Alaska (USA)

10 nov 1938 20:18

|

8.2

|

35km / 22mi

|

hace 82 años

|

27km / 17mi

| Alaska Peninsula (USA)

23 ene 2018 09:31

|

7.9

|

25km / 16mi

|

hace 3 años

|

605km / 376mi

| - 292km SE of Kodiak, Alaska

09 oct 1900 12:25

|

7.9

|

unknown

|

hace 120 años

|

388km / 241mi

| Kodiak Island Region, Alaska (USA)

06 mar 1988 22:35

|

7.8

|

10km / 6,2mi

|

hace 33 años

|

985km / 612mi

| Gulf of Alaska (USA)

02 jul 1965 20:58

|

7.8

|

45km / 28mi

|

hace 55 años

|

643km / 400mi

| Fox Islands, Aleutian Islands, Alaska (USA)

07 mar 1929 01:34

|

7.8

|

15km / 9,3mi

|

hace 92 años

|

883km / 549mi

| South of the Aleutian Islands (USA)

03 nov 1943 14:32

|

7.6

|

15km / 9,3mi

|

hace 77 años

|

866km / 538mi

| Southern Alaska (USA)

31 may 1917 08:47

|

7.4

|

35km / 22mi

|

hace 104 años

|

59km / 37mi

| South of Alaska (USA)

Show all
Map of earlier quakes
Más en VolcanoDiscovery