Major mag. 7.6 earthquake - 97 Km SE of Sand Point, Alaska, USA on Monday, 19 October 2020 - information
-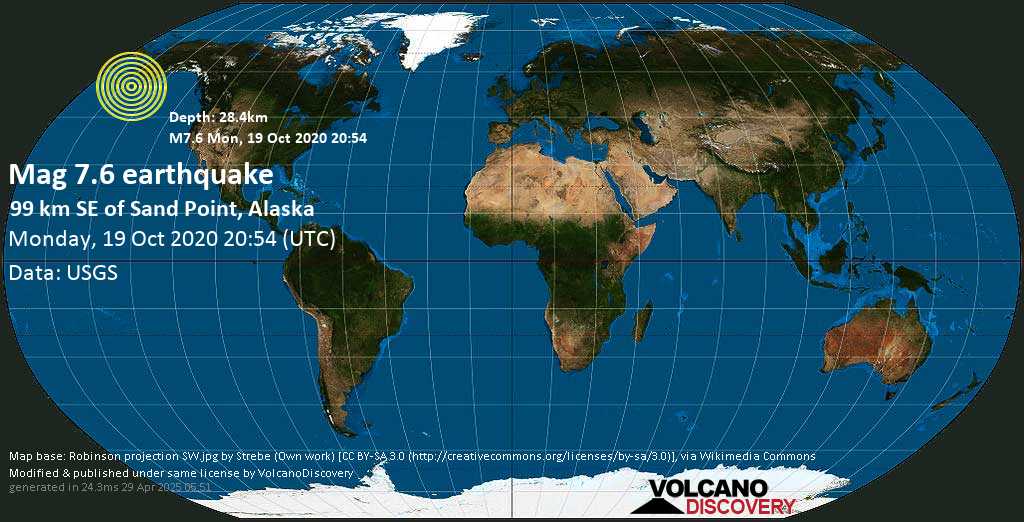 Major magnitude 7.6 earthquake at 35 km depth
19 Oct 21:01 UTC: Primero en informar: USGS después de 7 minutos.
19 Oct 21:15: Magnitud recalculada de 7.4 a 7.5. Profundidad recalculada de 41.0 a 40.1 km (de 25 a 25 mi). Ubicación del epicentro corregida 4.3 km (2.7 mi) al O.
20 Oct 17:56: Magnitud recalculada de 7.5 a 7.6. Profundidad recalculada de 40.1 a 33.3 km (de 25 a 21 mi). Ubicación del epicentro corregida 6.2 km (3.8 mi) al SSE.
23 Oct 16:50: Profundidad recalculada de 33.3 a 35.4 km (de 21 a 22 mi). Ubicación del epicentro corregida 1.7 km (1 mi) al NE.
Update Tue, 20 Oct 2020, 08:38
Quake was aftershock of magnitude 7.8 quake in July
According to detailed calculations of USGS, yesterday's magnitude 7.5 quake was a large aftershock of the M 7.8 quake on 22 July earlier this year.
Tectonic summary (USGS):
The earthquake occurred as the result of strike-slip faulting near the subduction zone interface between the Pacific and North America plates, either within the upper (North America) Plate or within the downgoing (Pacific) slab.
The preliminary focal mechanism solution indicates rupture occurred on either a moderately dipping right-lateral strike-slip fault striking towards the NNW or on a steeply dipping left-lateral strike-slip fault striking towards the east, and therefore that this earthquake was not a thrust event on the plate interface itself.
At the location of this event, the Pacific plate converges with North America to the northwest at a rate of about 64 mm/yr, subducting at the Alaska-Aleutian Trench 100 km to the southeast of the earthquake.
Update Mon, 19 Oct 2020, 22:48
No major damage expected
The quake follows the
massive 7.8 quake
, which hit the same area on 22 July earlier this year, but didn't cause significant damage, mainly due to the extremely low density of population.
Therefore, we don't expect any major damages from this quake either, although a report mentions that some buildings collapsed in Unga, a small settlement about two miles west of Sand Point.
Earthquake data:
Fecha & hora: 19 Oct 2020 08:54:39 UTC -
Hora local al epicentro:
lunes, 19 oct 2020 11:54 (GMT -9)
Magnitud: 7.6
Profundidad: 35.4 km
Epicentro latitud / longitud: 54,6172°N / 159,6352°W
(Alaska,
Estados Unidos
)
Volcán mas cercano:
Stepovak Bay 2
(141 km / 88 mi)
Nearby towns and cities:
97 km al SE de Sand Point
(pop: 1,060)
147 km al SSW de Perryville
(pop: 113)
179 km al ESE de King Cove
(pop: 1,010)
207 km al ESE de Cold Bay
(pop: 123)
456 km al ENE de Unalaska
(pop: 4,490)
569 km al SW de Saint Paul
(pop: 6,250)
698 km al SSE de Bethel
(pop: 6,450)
1592 km al W de Juneau
(pop: 32,800)
Weather at epicenter at time of quake:
Few Clouds
8°C
(46 F), humidity: 68%, wind: 6 m/s (12 kts) from W
Fuente primaria de datos:
USGS
Energía liberada estimada: 1.6 x 10
16
joules (4402 gigawatt hours, equivalent to 3.8 x 10
6
tons of TNT or 236.7 atomic bombs!)
More info
Data for the same earthquake reported by different agencies
Info: The more agencies report about the same quake and post similar data, the more confidence you can have in the data. It takes normally up to a few hours until earthquake parameters are calculated with near-optimum precision.
| | | | |
| --- | --- | --- | --- |
| Magnitud | Profundidad | Ubicación | Fuente |
| M 7.6 | 35 km | 97 Km SE of Sand Point, Alaska, USA | USGS |
| M 7.5 | 40 km | South of Alaska, USA | GFZ |
| M 7.6 | 30 km | South of Alaska, USA | GeoAu |
| M 7.5 | 40 km | South Of Alaska, USA | EMSC |
| M 7.4 | 20 km | United States [Sea], USA | INGV |
| M 7.5 | 26 km | South of Alaska, USA | BMKG |
User reports for this quake (78)
Aftershocks of the M 7.6 terremoto: 97 Km SE of Sand Point, Alaska, USA Mon, 19 Oct 20h54
More info
Recorded aftershocks, latest first (258 quakes):
Earlier earthquakes in the same area since 1900
Muy fuerte terremoto magnitud 7.6 - 97 Km SE of Sand Point, Alaska, USA, lunes, 19 oct. 2020
Hint: Click on Date/Time to show latest first

Date / time UTC

|

Mag

|

Profundidad

|

Age

|

Distancia

| Details

01 abr 1946 12:29

|

8.6

|

15km / 9,3mi

|

hace 75 años

|

243km / 151mi

| 1946 Aleutian Islands (Unimak Island) Earthquake, Alaska (USA)

10 nov 1938 20:18

|

8.2

|

35km / 22mi

|

hace 82 años

|

112km / 70mi

| Alaska Peninsula (USA)

23 ene 2018 09:31

|

7.9

|

25km / 16mi

|

hace 3 años

|

685km / 426mi

| - 292km SE of Kodiak, Alaska

09 oct 1900 12:25

|

7.9

|

unknown

|

hace 120 años

|

472km / 293mi

| Kodiak Island Region, Alaska (USA)

22 jul 2020 06:12

|

7.8

|

28km / 17mi

|

hace 19 semanas

|

85km / 53mi

| 105 Km SSE of Perryville, Alaska (USA)

02 jul 1965 20:58

|

7.8

|

45km / 28mi

|

hace 55 años

|

562km / 349mi

| Fox Islands, Aleutian Islands, Alaska (USA)

07 mar 1929 01:34

|

7.8

|

15km / 9,3mi

|

hace 92 años

|

799km / 496mi

| South of the Aleutian Islands (USA)

03 nov 1943 14:32

|

7.6

|

15km / 9,3mi

|

hace 77 años

|

940km / 584mi

| Southern Alaska (USA)

31 may 1917 08:47

|

7.4

|

35km / 22mi

|

hace 104 años

|

38km / 23mi

| South of Alaska (USA)

18 abr 1916 04:01

|

7.4

|

170km / 106mi

|

hace 105 años

|

695km / 432mi

| Fox Islands, Aleutian Islands, Alaska (USA)

Show all
Map of earlier quakes
Más en VolcanoDiscovery