Débil terremoto magnitud 3.8 - Chiapas, Mexico jueves, 22 ago. 2019
22 Aug 14:02 UTC: Primero en informar: EMSC después de 6 horas.
Fecha & hora: jueves, 22 agosto 2019 07:45 UTC
Magnitud: 3.8
Profundidad: 117.0 km
Epicentro latitud / longitud: 16,19°N / 93,82°W
(
Mexico
)
Volcán mas cercano:
El Chichón
(145 km / 90 mi)
Fuente primaria de datos:
EMSC
Energía liberada estimada: 3,2 x 10
10
joules (8,78 megawatt hours, equivalent to 7,56 tons of TNT) [
aprende más
]
Data for the same earthquake reported by different agencies
Info: The more agencies report about the same quake and post similar data, the more confidence you can have in the data. It takes normally up to a few hours until earthquake parameters are calculated with near-optimum precision.
| | | | |
| --- | --- | --- | --- |
| Fecha / Hora | Revista / Profundidad | Ubicación | Fuente |
| Thu, 22 Aug 07:45 UTC | M 3.8 / 117 km | Chiapas, Mexico | EMSC |
User reports for this quake
Significant earthquakes in the same area since 1900
Débil terremoto magnitud 3.8 - Chiapas, Mexico jueves, 22 ago. 2019
Click here to search our database for earlier earthquakes in the same area since 1900!
Más en VolcanoDiscovery:
If you find the website useful and would like to support us and help keep it alive and improve it, please consider
making a small donation
.
Thank you!
Green Volcanoes
: The Azores, a cluster of volcanic islands in the Atlantic Ocean, are famous for their very pleasant climate, breathtaking green and unspoiled landscapes and nature. They also have deep history and you'll find warm hospitality. Our new tour, guided by a photographer and volcanologist, will lead to five islands: Sao Miguel, Faial, Terceira, Pico and Flores - each with its distinct character to discover.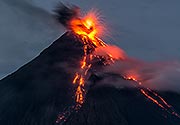 Mayon volcano photos
: Mayon on Luzon Island, towering above Legazpi city is famous for being one of the most perfectly symmetrical stratovolcanoes in the world. It is also one of the most active and most dangerous volcanoes (not only) in the Philippines.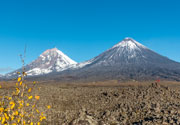 Land of Colors
: We still have spots free on the tours to Kamchata's volcanoes in Aug & Sep 2020! Both tours will be accompanied by a volcanologist from our team. A country full of colors and adventures is waiting for you!