Moderado terremoto magnitud 5.6 - 3.9 Km WNW of Krýsuvík, Iceland, martes, 20 oct. 2020 -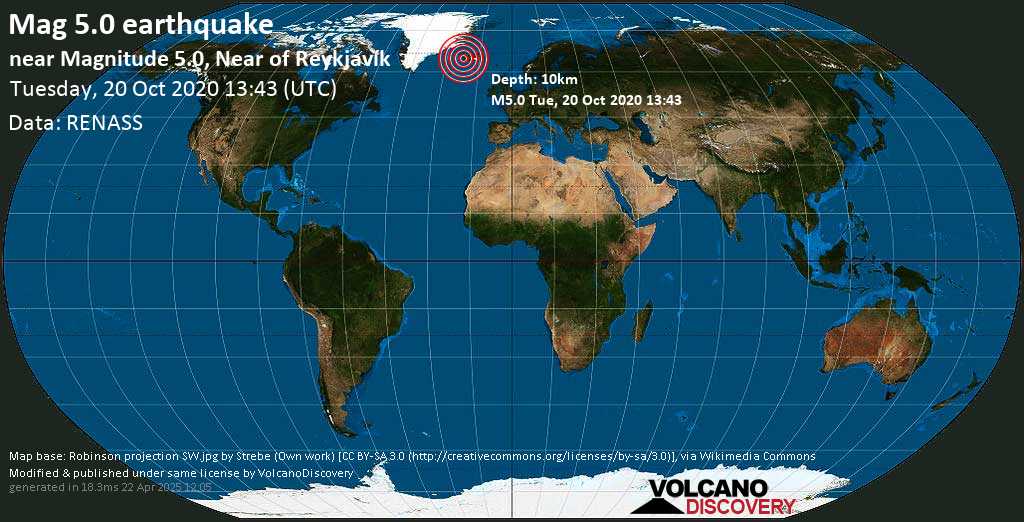 Moderate magnitude 5.6 earthquake at 3 km depth
20 Oct 13:48 UTC: Primero en informar: GFZ después de 5 minutos.
20 Oct 13:49: Magnitud recalculada de 5.7 a 5.4. Ubicación del epicentro corregida 11.2 km (7 mi) al SO.

20 Oct 16:57: Ahora usando una nueva fuente de datos: IMO
Update Tue, 20 Oct 2020, 17:03
Ongoing earthquake swarm, over 100 aftershocks
The Icelandic Met Office (IMO) posted an update on the mag 5.6 quake which occurred at 13:43 in Núplahlíðarháls, about 5 km vest of Seltún, mentioning that seismic activity remains high in the area. By now over 100 aftershocks have been recorded.
Update Tue, 20 Oct 2020, 14:10
Quake felt widely in SW Iceland
Locations of users reporting the earthquake
A large part of Iceland's population could have felt the earthquake. During the first 15 minutes, we received more than 100 user reports of people who felt it. Mild shaking was perceived in the capital Reykjavik. There are no reports of damages.
Earthquake data:
Fecha & hora: 20 Oct 2020 01:43:15 UTC -
Hora local al epicentro:
martes, 20 oct 2020 13:43 (GMT +0)
Magnitud: 5.6
Profundidad: 3.3 km
Epicentro latitud / longitud: 63,895°N / 22,144°W
(
Islandia
)
Volcán mas cercano:
Krísuvík
(7 km / 4 mi)
Nearby towns and cities:
15 km al SE de Vogar
(pop: 1,030)
16 km al ENE de Grindavik
(pop: 2,860)
24 km al SSW de Hafnarfjörður
(pop: 2,390)
27 km al SSW de Kópavogur
(pop: 31,700)
29 km al SSW de Reikiavik
(pop: 118,900)
32 km al ESE de Sandgerði
(pop: 1,550)
37 km al SW de Mosfellsbaer
(pop: 8,650)
48 km al S de Akranes
(pop: 6,610)
Weather at epicenter at time of quake:
Overcast Clouds
4°C
(39 F), humidity: 64%, wind: 3 m/s (5 kts) from N
Fuente primaria de datos:
IMO
Energía liberada estimada: 1.6 x 10
13
joules (4.4 gigawatt hours, equivalent to 3788 tons of TNT or 0.2 atomic bombs!)
More info
Data for the same earthquake reported by different agencies
Info: The more agencies report about the same quake and post similar data, the more confidence you can have in the data. It takes normally up to a few hours until earthquake parameters are calculated with near-optimum precision.
| | | | |
| --- | --- | --- | --- |
| Magnitud | Profundidad | Ubicación | Fuente |
| M 5.6 | 3.3 km | 3.9 Km WNW of Krýsuvík, Iceland | IMO |
| M 5.5 | 5 km | 5.1 Iceland | EMSC |
| M 5.7 | 10 km | 29 Km SSW of Reykjavik, Iceland | GeoAu |
| M 5.6 | 10 km | 11 Km SW of Álftanes, Iceland | USGS |
| M 5.6 | 10 km | 24 Km SSW of Reykjavik, Iceland | GFZ |
User reports for this quake (420)
Aftershocks of the M 5.6 terremoto: 3.9 Km WNW of Krýsuvík, Iceland Tue, 20 Oct 13h43
More info
Recorded aftershocks, latest first (194 quakes):
Earlier earthquakes in the same area since 1900
Moderado terremoto magnitud 5.6 - 3.9 Km WNW of Krýsuvík, Iceland, martes, 20 oct. 2020
Hint: Click on Date/Time to show latest first

Date / time UTC

|

Mag

|

Profundidad

|

Age

|

Distancia

| Details

21 jun 2000 00:51

|

6.5

|

10km / 6,2mi

|

hace 20 años

|

68km / 42mi

| Iceland

17 jun 2000 15:40

|

6.5

|

10km / 6,2mi

|

hace 20 años

|

81km / 51mi

| Iceland

29 may 2008 15:46

|

6.3

|

9km / 5,6mi

|

hace 13 años

|

57km / 35mi

| Iceland

23 jul 1929 18:43

|

6.2

|

10km / 6,2mi

|

hace 91 años

|

27km / 16mi

| Iceland

25 may 1987 11:31

|

6.0

|

7,6km / 4,7mi

|

hace 34 años

|

118km / 74mi

| Iceland

05 dic 1968 09:44

|

6.0

|

10km / 6,2mi

|

hace 52 años

|

10km / 6mi

| Iceland Region

20 jul 2020 06:23

|

5.0

|

5,6km / 3,5mi

|

hace 20 semanas

|

9km / 6mi

| 3.5 Km WSW of Fagradalsfjall (Iceland)

26 ago 2020 16:15

|

4.9

|

3,5km / 2,2mi

|

hace 14 semanas

|

11km / 7mi

| 4.6 Km WSW of Fagradalsfjall (Iceland)

12 mar 2020 10:26

|

4.8

|

10km / 6,2mi

|

hace 38 semanas

|

16km / 10mi

| Iceland

20 jul 2020 05:46

|

4.6

|

5,8km / 3,6mi

|

hace 20 semanas

|

9km / 5mi

| 2.4 Km WSW of Fagradalsfjall (Iceland)

Show all
Map of earlier quakes
Más en VolcanoDiscovery