4th paroxysm of Voratine in progress
Update Sat 05 Dec 15:46
Lava fountain and ash plume from Voragine
Thermal image showing the lava fountain
INGV webcam from Montagnola
Current tremor signal (ESLN station / INGV Catania)
The 4th lava fountaining episode in less than 3 days has began at Etna's Voragine. Intermittent strombolian activity, elevated throughout the day since the end of last night's paroxysm, has now merged into sustained jets (fountains) of lava. An ash plume is again rising several kilometers.
At the time of updating, this activity is still increasing.
Update Sat 05 Dec 15:48
Lava fountain during Etna's 4th Voragine paroxysm
View from Montagnola (Radiostudio7 webcam)
The speed at which activity increases is truly impressive. Even from webcams located more or less downwind (i.e. receiving much ash blocking clear view), the lava fountain is now visible clearly.
Continuing strong activity at Voragine - Catania airport remains closed
Update Sat 05 Dec 07:36
Explosion at Etna's Voragine this morning
Current tremor signal (ESLN station / INGV Catania)
The EBCN seismic station (at the foot of Bocca Nuova) is no longer sending data - probably it was hit by bombs during the first paroxysm on 3 Dec
After the third paroxysmal phase (tall lava fountaining) at the Voragine yesterday evening around 22:00, activity in the form of strong, frequent strombolian explosions and lava spattering continued all night and into the morning.
Tremor remains high, suggesting that the current phase is in fact not over (and more paroxysm could occur). Small incandescent ejections and ash emissions also take place from the small new pit crater on the upper eastern flank of the New SE crater.
The airport of Catania remains closed today, with most flights diverted to Palermo or Comiso.
Video of this night's activity:
Third paroxysm from Voragine
Update Fri 04 Dec 21:19
Lava fountain from Etna, around 1 km tall, this evening
Lava fountain half an hour ago
Current tremor signal (ESLN station, INGV Catania)
Lava fountain seen from western side
After only about 12 hours since this morning's lava fountaining episode, another paroxysm occurred this evening.
Activity from the Voragine (and minor activity from New SE crater) had in fact not ceased at all after the peak of the paroxysm this morning, but remained with intense strombolian explosions and ash emissions. Tremor had remained elevated.
Starting around 21:10 local time, this activity once more began to increase strongly and produced tall lava fountains (probably near or even more than 1000 m high) around 21:40. Activity started to decrease again after 21:55 local time, but until now remains rather intense.
What is next in store at Etna will be very interesting to see...
Due to the ash plume, the
airport of Catania has been closed
. Most flights were canceled, a few diverted to Comiso. Whether it can be reopened tomorrow morning will depend on Etna's activity and the winds.
Incandescent ejections from New SE crater
Incandescent ejections from New SE crater continued to occur as well throughout the day.
Below a superb photo showing the ash plume from this morning's paroxysm. Photo credit:
Testa Veronica
(EtnaLive / facebook>
View of Etna's ash plume this morning (image: Testa Veronica)
The plume seen from space (MODIS / NASA)
Etna's ash plume seen from the north (image: Gruppo Guide Etna Nord)
Second paroxysm from Voragine crater
Update Fri 04 Dec 16:10
Lava fountain from Etna's Voragine today
The large ash plume from Etna's paroxysm today (image: Antonio di Caudo / https://www.facebook.com/etna365)
A second paroxysm occurred this morning from the Voragine crater. It seems to have been similarly violent as the preceding one during the early hours of yesterday.
Following yesterday's eruption, strombolian activity had been continuing throughout the day and last night.
This morning, in particular after 08:40 (local time), tremor started to rise steeply again and activity quickly intensified. Lava fountaining produced an ash column that rose to 9-11 km altitude and spread eastwards. The intense phase of lava fountains decreased rapidly after 11:15, but strombolian activity has been continuing and tremor at the moment is still elevated.
Intermittently, ash emissions have also taken place from the new pit crater on the New SE crater cone.
Update Fri 04 Dec 16:12
An image from yesterday's paroxysm by
Luca La Manna / EtNativo / facebook
:
Etna's Voragine paroxysm 3 Dec 2015 (image: Luca La Manna)
Violent paroxysm at Voragine summit crater, lava fountains over 1 km height
Update Thu 03 Dec 13:19
Thermal image of Voragine's lava fountain last night
Thermal image of the lava fountain at its peak
After gradually increasing the already mentioned strombolian activity from Voragine during the evening of 2 Dec, it escalated into a short, but very violent phase of lava fountaining (paroxysm), with high lava fountains and an eruption column several kilometers high.
The climax of the paroxysm occurred between 03:20 and 04:10 local time (GMT+1) when a sustained lava fountains reached heights of over 1km; some jets of hot material reached the height of 3 km above the summit of the volcano.
During the peak of the eruption, incandescent bombs were ejected to more than 3 km height.
The cloud of pyroclastic material was carried by the wind to the northeast, causing fallout of ash on villages as Linguaglossa, Francavilla di Sicilia, Milazzo, Messina and Reggio Calabria. At dawn, the eruptive activity had almost ceased, although some weak ash emissions occurred both from Voragine, the Northeast crater, and from the new small pit crater on the upper flank of the New Southeast Crater.
The paroxysmal event last night was among the most violent eruptive episodes of Etna during the past two decades; Voragine had two particularly intense paroxysms previously on 22 July 1998 and 4 Sep 1999, similar to the one last night.
Both had produced tall lava fountains, - in the case of the 4 September 1999 paroxysm surpassed 2000 m in height. The eruptive columns during the 22 July 1998 event reached a height of 12 km above sea level. Abundant pyroclastic material fell in the southern sector of the volcano during the first event (1998) and in the eastern one during the paroxysm of 1999.
Earlier on even, Voragine had been the site of exceptionally violent paroxysms, as in February 1947, July-August 1960 to August 1989.
(
translated from original preliminary report on www.ct.ingv.it/it/
)
Etna - Parossismo Voragine (3/12/2015)

Io penso che una nottata del genere gli appassionati dell'Etna non la dimenticheranno mai. Mi ero addormentato da poco più di un ora, il telefono ha squillato e una voce agitata mi ha detto una frase che aspettavo di sentire da tanti anni: "Antonio, c'è un parossismo fortissimo alla Voragine!". Ho alzato la serranda del balcone con una velocità che quasi mi facevo male alle mani, mi sono affacciato ancora in pigiama e ho visto una fontana di lava immensa, forse come mai ne avevo viste. Sono convinto che i getti più alti arrivassero, e probabilmente superassero di un bel pò il chilometro di altezza, una fontana di lava alta almeno un terzo dell'Etna. E poi quei fulmini in mezzo all'enorme nube di cenere che si allargava a fungo, dimostrazione dell'enorme potenza dell'evento parossistico.Ho preso l'attrezzatura rovesciando tutto quello che c'era nell'armadio, non riuscivo a montare il treppiedi perchè mi tremavano le mani. Si, per un appassionato un evento del genere, è un'assoluta rarità, pertanto l'emozione prende il sopravvento ed è per questo che ho voluto lasciare l'audio originale, anche con qualche mio commento dato dall'emozione del momento.L'ultimo parossismo vulcanico della Voragine degno di questo nome aveva avuto luogo il 4 settembre 1999, e non mi era stato possibile vederlo a causa della copertura nuvolosa. Stavolta l'Etna è stato benevolo, ha concesso ma solo a pochi, visto l'orario. Sarà interessante vedere cosa farà il vulcano dopo questo evento, sempre più convinto che nella tua imprevedibilità racchiudi il tuo fascino.

Posted by Passione Etna on Mittwoch, 2. Dezember 2015
Increased strombolian activity at the Voragine crater
Update Wed 02 Dec 22:45
Strombolian activity at the Voragine crater seen from the East(comune Giarre - DPC)
The strombolian activity in the Voragine crater that started about a month ago has today increased its intensity. While until yesterday the explosions were too small to reach the top of the crater rim, now they are large enough to be seen from the various Etna webcams.
Due to poor visibility the glow from Voragine was incorrectly attributed to the New SE crater earlier. The New SE crater however did show some weak ash emissions this afternoon.
Increased activity at Voragine
Update Wed 02 Dec 18:15
View from Montagnola towards Etna's summit craters
Current tremor signal (EBCN station / INGV Catania)
It seems that strombolian activity at the Voragine (not at the New SE crater as previously thought) started to increase a lot a few hours ago.
Visibility is not very good, but bright glow and rising tremor suggest that a new eruptive phase is in progress.
A new pit crater had been observed on the upper eastern flank of the New SE cone, which had been degassing strongly. In the meanwhile, the strombolian activity inside Voragine had also continued during the past days, occasionally even strong enough to project bombs higher than the rim of the crater.
Weak strombolian activity at the New SE Crater
Update Wed 25 Nov 21:28
Thermal anomaly on the eastern side of the New SE crater (INGV Monte Cagliato thermal webcam)
Weak ash emissions from the New SE crater (Montagnola webcam, INGV Catania)
Since this afternoon there is a change visible in Etna's activity. Weak strombolian activity has started from the New SE crater. The activity probably started earlier today, but due to bad weather it was not observed before.
Weak strombolian activity continues also from the vent inside the Voragine crater.
Tremor remains low at the moment.
Update Wed 18 Nov 22:52
Strombolian activity continues in the Voragine. Hot fumaroles are visible at the New SE crater.
Glow from Etna's Voragine during a small strombolian explosion
Degassing from summit craters, mild strombolian activity in Voragine
Update Tue 17 Nov 15:44
Weak ash emisson from Etna's central crater (INGV webcam)
Steaming/degassing from Etna's New SE crater (l) and from the NE crater (r)
No significant change in activity has occurred during the past days. Degassing from the New SE crater has decreased again, probably because the magma column has dropped again, and tremor is currently low.
Mild strombolian explosions seem to continue from Voragine, as suggested by small puffs of ash visible. Strong degassing and perhaps dilute ash emissions are also originating from the NE crater where deep-seated explosive activity occurs and can be heard when on its rim.
Intense degassing from New SE crater
Update Fri 13 Nov 07:35
Etna's steaming New SE crater this mornning
Tremor amplitude (ESLN station, INGV Catania)
Etna's New SE crater is the likely site of new activity in the near future. Intense steaming from the eastern vent of the youngest summit crater suggests that magma is not far from the surface.
Over the past two weeks, 5 episodes of increased tremor and increased degassing occurred from the crater, but so far all ended without an eruption - one could call them "failed attempts" to produce the otherwise typical paroxysms. Another such episode might be about to start at the time of this update (
check the webcams
).
In the meantime, weak strombolian activity continues at the vent inside the Voragine crater.
Tremor dropped - no eruption
Update Tue 10 Nov 07:25
Etna's current tremor signal (EBCN station, INGV Catania)
Last night, a marked peak of volcanic tremor occurred as sign of internal unrest at the volcano, but (unlike during many previous occasions) did not result in a paroxysm and was not associated with any particular change in surface activity.
urrently, this consists of mild strombolian explosions inside the Voragine summit crater.
Rising tremor - possible sign of a new paroxysm?
Update Mon 09 Nov 23:32
Rising tremor signal from Etna volcano (EBCN station, INGV)
Thermal image of the New SE crater
During the past hours, volcanic tremor has bee rising strongly. In the past, this has often been a sign of an impending paroxysm (violent summit eruptive phase). Whether this is the case now is too early to say.
So far, no significant activity is visible from the New SE crater (NSEC), although a hot spot is present on thermal webcam images.
If you like to follow this activity in real-time,
visit the webcams
...
Unstable tremor, continuing strombolian activity in Voragine
Update Sun 08 Nov 08:23
Etna's summit area this morning
Tremor amplitude (EBCN station / INGV)
Ash emission from NSEC last night
The Bocca Nuova before last week and now - there is now only a single pit
Etna remains highly restless. A peak in volcanic tremor occurred last night but with no visible changes in surface activity. Weak strombolian activity continues from the vent inside the Voragine summit craters.
The New SE crater has been restless, too: a small explosion occurred over night.
Another change noted when Emanuela climbed the summit crater was that the wall dividing the two vents inside Bocca Nuova has collapsed, probably a week ago when a seismic-volcanic event occurred at the volcano.
Etna volcano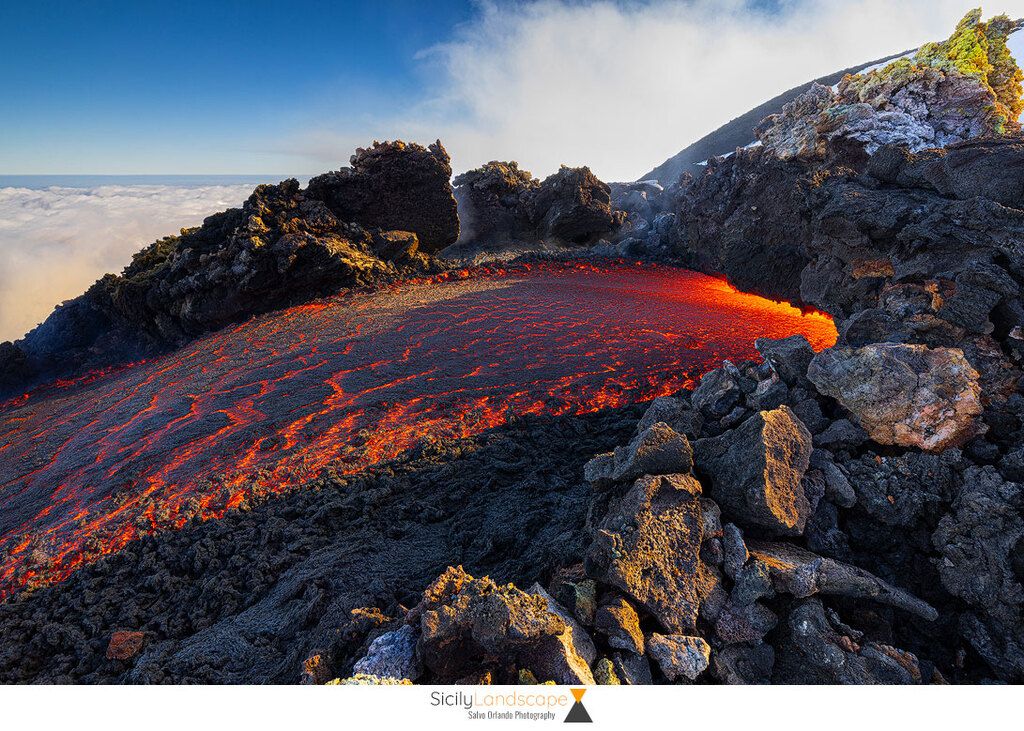 expedición volcán de 4/5 días al volcán del Monte Etna, Italia
4-5 days - Moderada
on request
Fechas personalizadas y en grupos
27-31 ene 2023
The latest updates are on the top. Reload this page from time to time if you want to check for updates. If you like to share and contribute, you are welcome to leave a comment.