Etna volcano updates and eruption news:
dom, 3 abr 2016, 08:20
Steam plume mixed with light ash from Etna's NE crater
Activity remains low at the volcano. Only weak, intermittent ash emissions with decreasing tendency continue to occur from the NE crater. However, they carry no signs that could indicate fresh lava, and likely consist of older fragmented rock material only.
...màs
jue, 31 mar 2016, 07:50
Ash emissions from Etna's NE crater this morning
Intermittent weak to moderate ash emissions (presumably from older pulverized rock) have been occurring from the North-East crater, where also weak incandescence can be seen at night.
...màs
lun, 14 mar 2016, 17:46
Deformation at Etna in late Dec 2015 (INGV)
INGV Catania published the result of very high-resolution satellite-based measurements of ground deformation of Etna during the period between Feb 2015-Feb 2016.
...màs
leer todo
mié, 24 feb 2016, 10:16
Eruption of Etna's NE crater yesterday morning (INGV Catania)
An unusual eruptive episode occurred yesterday morning from the volcano's NE crater (the least active of the summit vents over the past few decades). Incandescent bombs were ejected above the rim of the crater and an ash plume rose several hundred meters.
...màs
leer todo
Más en VolcanoDiscovery: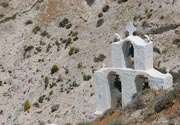 Private geology tour on Santorini
: We offer you private geology tours to get to know the extraordinary geology and natural history of the island, but also aspects of the deep connection with its cultural history and archaeology.
Become a supporter
: To continue to run this website full of free information about earthquakes and volcanoes to you, we also need to pay our developer, servers and in addition, we spend lots of our free time on it. If you enjoy it, we will greatly appreciate your support. If you like, you can send us a small donation.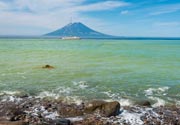 Kuril Islands expedition
: The Kuril islands form one of the most active volcanic chains in the world, but are very difficult to access. From time to time, we organize expeditions to some of these remote and still unspoiled islands. Adventure guaranteed!