Fourpeaked volcano
Stratovolcano 2105 m / 6,906 ft
United States, Alaska Peninsula, 58.77°N / -153.67°W
Current status
:
normal or dormant
(1 out of 5) |
Reports
Fourpeaked volcano books
Typical eruption style
: sin especificar
Erupciones del volcán Fourpeaked
: 2006
Fecha / Hora
Revista / Profundidad
Distancia
Ubicación
Sat, 8 Aug 2020
Sat, 8 Aug 21:44 UTC
M 1.3 / 95.9 km
8 km
62 km WNW of Nanwalek, Alaska (USA)
Wed, 5 Aug 2020
Wed, 5 Aug 07:07 UTC
M 1.2
2 km
90 km NNW of Aleneva, Alaska (USA)
Sat, 1 Aug 2020
Sat, 1 Aug 16:37 UTC
M 1.3
4 km
Kodiak Island region, Alaska (USA)
Mon, 27 Jul 2020
Mon, 27 Jul 15:57 UTC
M 1.2 / 5.3 km
20 km
76 km NNW of Aleneva, Alaska (USA)
Fri, 24 Jul 2020
Fri, 24 Jul 11:36 UTC
M 1.9 / 100.3 km
26 km
75 km SSE of Kokhanok, Alaska (USA)
Ver los sismos recientes
Background:
Poorly known Fourpeaked volcano in NE Katmai National Park consists of isolated outcrops surrounded by the Fourpeaked Glacier, which descends eastward almost to the Shelikof Strait. The orientation of andesitic lava flows and extensive hydrothermal alteration of rocks near the present 2105-m-high summit suggest that it probably marks the vent of Fourpeaked volcano. Eruptive activity during the Holocene had not been confirmed prior to the first historical eruption of Fourpeaked in September 2006. A N-trending fissure extending 1 km from the summit produced minor ashfall.
---
Smithsonian / GVP volcano information
See also:
Sentinel hub
|
Landsat 8
Más en VolcanoDiscovery: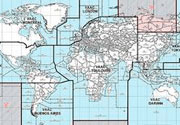 Volcanic Ash Advisory Centres
: Much current eruption news is provided by the 9 Volcanic Ash Advisory Centres (VAAC) distributed around the globe. The VAACs provide a vital service for aviation safety.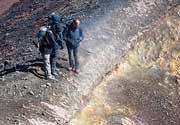 Private tours on Etna volcano
: Discover Europe's largest active volcano on private, guided 1-day tours. Tours can be customized for different interests and fitness levels.
Volcanoes & Cultures
: The contrast between unspoiled rain-forest, coconut palm beaches, primitive culture and moon-like landscapes surrounding lava-spitting volcanoes could not be bigger: join us on an expedition to the two most active volcanoes of Vanuatu: Ambrym and Yasur.