Heard volcano
Actualizado: 3 dic. 2022 06:46 GMT
-
Stratovolcano 2745 m / 9,006 ft
Australia, Southern Indian Ocean, -53.11°S / 73.51°E
Current status: restless (2 out of 5)
Last update: 16 nov 2022 (Smithsonian / USGS Weekly Volcanic Activity Report)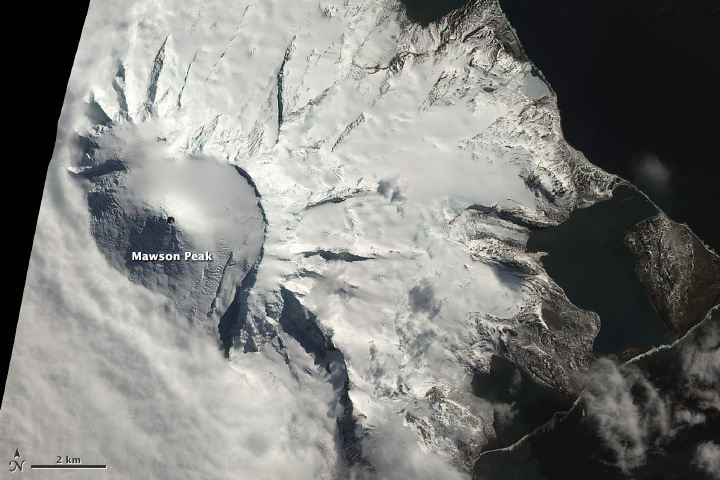 NASA Earth Observatory image of Hear Island taken on 13 Oct 2012 by Robert Simmon, using EO-1 ALI data from the NASA EO-1 team and USGS Global Visualization Viewer (NASA earth observatory http://earthobservatory.nasa.gov/NaturalHazards/view.php?id=79484)
Heard Island is the top of an active stratovolcano on the Kerguelen Plateau in the southern Indian Ocean, about 4000 km southwest of Western Australia. Part of Australian territory, along with McDonald Island to the west, Heard is one of Australia's two currently active volcanoes.
The volcano is frequently active, and occasional reports of eruptions date back to 1881. Since about 1980, remote sensing mostly via satellites has been able to detect more and frequent activity at the volcano.
The 368 sq km island with its highest point Mawson Peak at 2745 m forms the highest point of Australian territory outside Antarctica.
The uninhabited island was discovered by and named after Captain John Heard in 1853. Its remote location and typically extremely adverse weather and wind conditions make it difficult to access and only few expeditions have reached it. An Australian navy base existed on the island at Atlas Cove on the western side of Big Ben between December 1947 and March 1955.
Typical eruption style:
sin especificar
Erupciones del volcán Heard:
2019, 2018 (?), 2017, 2016, 2015, 2014, 2012-13, 2006-08, 2003-04, 2000-01, 1993, 1992 (May), 1992 (Jan) (?), 1985-87, 1954, 1953, 1950-52, 1910, 1881 (?)
Latest nearby earthquakes
No hay terremotos recientes
Background
Heard Island on the Kerguelen Plateau in the southern Indian Ocean consists primarily of the emergent portion of two volcanic structures. The large glacier-covered composite basaltic-to-trachytic cone of Big Ben comprises most of the island, and the smaller Mt. Dixon volcano lies at the NW tip of the island across a narrow isthmus. Little is known about the structure of Big Ben volcano because of its extensive ice cover. The historically active Mawson Peak forms the island's 2745-m high point and lies within a 5-6 km wide caldera breached to the SW side of Big Ben. Small satellitic scoria cones are mostly located on the northern coast. Several subglacial eruptions have been reported in historical time at this isolated volcano, but observations are infrequent and additional activity may have occurred.
---
Smithsonian / GVP volcano information
Heard Fotos
| | |
| --- | --- |
| Acid water can be heard bubbling beneath the surface in one of the springs at Dallol hydrothermal field, Ethiopia. (Photo: Tom Pfeiffer) | As we arrive on Belvedere at around 1pm the New SE crater and the old SE crater behind are still quiet, but soon, the first explosions can be heard from a vent inside the... |
| Heard Island volcano in eruption with dark lava flows on the snow, Nov 2015 (Photo: Richard Arculus) | Unusually clear view of the interior of the NE crater. Every few minutes, detonations from deep-seated explosions can be heard (and felt). (Photo: Tom Pfeiffer) |



See also: Sentinel hub | Landsat 8 | NASA FIRMS