Huambutillo-Rumicola volcano
Typical eruption style
: sin especificar
Erupciones del volcán Huambutillo-Rumicola
: None during the past 10,000 years
Less than few million years ago (Pleistocene)
| | | | |
| --- | --- | --- | --- |
| Fecha / Hora | Revista / Profundidad | Distancia | Ubicación |
Background:
A K-Ar date of about 0.59 +/- 0.25 Ma was obtained from Huambutillo volcano at the eastern end of the Cuzco valley about 20 km SE of Cuzco. Nearby Rumicola volcano was dated at about 7.2 Ma, but this was considered to be in error, and the volcano to be of likely Quaternary age (Bonhomme et al., 1988).
---
Source: Smithsonian / GVP volcano information
See also:
Sentinel hub
|
Landsat 8
Más en VolcanoDiscovery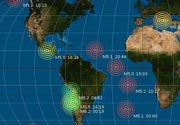 Monthy earthquake reports
: For each month since July 2012, we publish a summary of quake activity world-wide: find the list of largest quake, a map showing all significant quakes as well as detailed statistics on seismic activity during this time.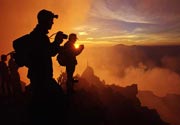 Volcano Trekking
: A physically active tour to visit and climb some of Indonesia's most active and famous volcanoes: Papandayan and Galunggung in West Java, Merapi in Central Java, Kelud, Semeru, Bromo, the Tengger caldera, and Ijen in East Java.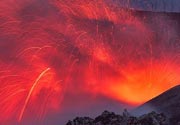 17 days volcano trekking
: This is one of our most exciting volcano tours! Halmahera, North Sulawesi and the Sangihe Islands are not only very scenic and interesting as well as nearly unspoiled by tourism, but also home to some of the country's most active (and often erupting) volcanoes, inclduing Dukono, Ibu, Lokon, Soputan and Karangetang.