Kenger volcano
cono de escoria 745 m
Turquía, 38.62°N / 28.43°E
Current status: normal or dormant (1 out of 5)
The Kenger volcano belongs to the fault system that created also the Kula cinder cones in western Turkey.
Typical eruption style
: explosive
Erupciones del volcán Kenger
: none in historic times
Latest nearby earthquakes
Fecha / Hora
Revista / Profundidad
Distancia
Ubicación
Fri, 5 Mar 2021 (GMT) (5 temblores)
5 mar 2021 22:58 (GMT +3)

(5 Mar 2021 19:58:16 GMT)




1.5


9.7 km - More
29 km
ALASEHIR (MANISA), Turkey
5 mar 2021 22:01 (GMT +3)

(5 Mar 2021 19:01:42 GMT)




1.8


5.4 km - More
32 km
BAHCEDERE-ALASEHIR (MANISA), Turkey
5 mar 2021 22:01 (GMT +3)

(5 Mar 2021 19:01:41 GMT)




2.1


11 km - More
39 km
7.9 km al sur de Alasehir, Provincia de Manisa, Turquía
5 mar 2021 21:56 (GMT +3)

(5 Mar 2021 18:56:04 GMT)




0.9


4.7 km - More
28 km
ERENKOY-ALASEHIR (MANISA), Turkey
5 Mar 2021 15:04:04 GMT


0.8

- More
106 km
BAKLANCAKIRLAR-CAL (DENIZLI), Turkey
Background
The area consists of a broad area of Quaternary alkaline basanitic-to-phonotephritic cinder cones along a roughly E-W-trending line SW. Most of the volcanoes are Pleistocene in age, between about 1.1 million and 10,000 years old. The initial stage produced lava flows from vents along the ring fracture of caldera identified from satellite images. The second and third stages took place along an E-W-trending graben and produced lava flows with ultramafic xenoliths. Although activity was considered to have continued until the beginning of the Holocene, or even to historical times (?), the age of the most recent eruption from the Kula field and Kenger cinder cones & lava flow is not known.
See also:
Sentinel hub
|
Landsat 8
Más en VolcanoDiscovery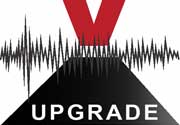 Volcanoes & Earthquakes
: Upgrade the Volcanoes & Earthquakes app!
Once installed for a tiny one-time cost, it unlocks additional features, removes ads in the free version of the app.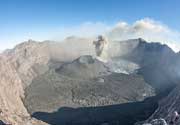 Raung volcano photos
: One of the largest and most active volcanoes in East Java, rarely-visited and relatively unknown Raung became (in)famous during its recent eruption in 2015 when its frequent ash plumes forced the repeated closure of Bali's airport.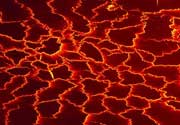 Nyiragongo volcano photos
: Nyiragongo (DR Congo) has the world's largest and most active lava lake. Enjoy our pictures taken during several expeditions over the past years.