Licto volcano
conos de escoria 3336 m / 10,945 ft, Ecuador, -1.78°S / -78.61°W
Cerca de terremotos recientes (dentro del radio de 30km):
Listado de sismos o temblores: últimos 7 días (solo M>=-0.8)
Actualizado: Fri, 14 Aug 14:00 UTC (GMT)
Fecha / Hora
Revista / Profundidad
Distancia
Ubicación
Mapa
Fuente
No hay terremotos recientes en nuestra base de datos
Earthquake statistics
Number of earthquakes vs time:
Past 24 hrs:
Past 30 days:
Past 90 days:
Magnitude distribution and energy released:
Past 24 hrs:
Past 7 days:
Past 30 days:
Más en VolcanoDiscovery: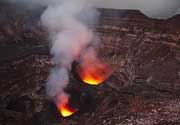 Ambrym volcano photos
: Ambrym (Vanuatu) is one of the most active volcanoes in the world. Its vast caldera has an amazing moonscape and several active vents that contain boiling lava lakes, most famous Marum and Benbow.
Guatemala photos
: Guatemala - a land of volcanoes and the colorful Mayan culture with incredible variety. A dream destination for volcano enthusiasts and photographers!
Volcanoes & Cultures
: The contrast between unspoiled rain-forest, coconut palm beaches, primitive culture and moon-like landscapes surrounding lava-spitting volcanoes could not be bigger: join us on an expedition to the two most active volcanoes of Vanuatu: Ambrym and Yasur.