Maunaloa volcano
Actualizado: 18 ago. 2022 10:47 GMT -
Refresh
Shield volcano 4170 m / 13,681 ft
Big Island, Hawai'i, 19.48°N / -155.61°W
Current status: restless (2 out of 5)
Last update: 11 may 2022 (slightly elevated seismicity)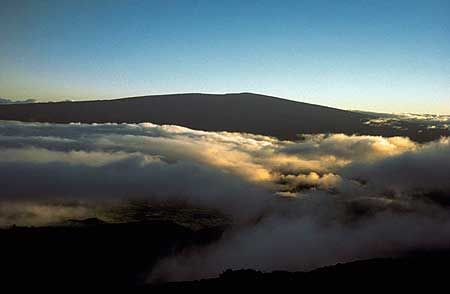 Mauna Loa volcano with the gentle slopes of a typical shield volcano
Maunaloa (officially renamed as one word from Mauna Loa) is the world's largest and one of its most active volcanoes - a giant shield volcano on the Big Island of Hawai'i.
Typical eruption style:
Dominantemente efusivo.
Erupciones del volcán Maunaloa:
1832, 1843, 1849, 1851, 1852, 1855-56, 1859, 1865-66, 1868, 1870(?), 1871, 1872, 1873, 1873-74, 1875, 1876, 1877, 1879, 1880, 1880-81, 1887, 1892, 1896, 1899, 1903, 1907, 1914-15, 1916, 1919, 1926, 1933, 1935-36, 1940, 1950, 1975, 1984
Lastest nearby earthquakes:
No hay terremotos recientes
Background
Mauna Loa, world's largest mountain and volcano, is a archetype of a basaltic shield volcano in its late mature stage of life, and only about 600,000-1,000,000 years old. Although not erupting as frequently as its younger neighbor Kilauea, it is also one of the most active volcanoes of the world. When it erupts, its eruptions are usually huge and produce large rivers of lava that have repeatedly threatened the town of Hilo.
Mauna Loa rises almost 9 km above the sea floor and the weight of the massive mountain has depressed the oceanic crust down by about 8 kilometers, so the whole pile of volcanic rocks produced from Mauna Loa is probably about 8+5+4=17 kilometers! It has eruptions both from its summit, occupied by a large caldera, and its NE and SW rift zones on the flanks. Almost 90% of Mauna Loa's surface is is covered by lavas less than 4000 years old, while about 50% of its surface is covered by lavas no older than about 1500 years old, while about 25% are covered by lava flows younger than about 750 years, i.,e. emplaced after the formation of the Mokuaweoweo summit caldera.



See also: Sentinel hub | Landsat 8 | NASA FIRMS