Bagabag

(Stratovolcano)

[màs]
Bam

(estratovolcán)

Bam volcano is one of the most active volcanoes in Papua New Guinea. A mostly submerged stratovolcano forms the small 2.4 km x 1.6 km oval shaped Bam Island. Bam volcano belongs to the Bismarck volcanic arc north of New Guinea. Bam is the SE-most of the Schouten Islands and ocate... [màs]
Blup Blup

(estratovolcán)

Blup Blup volcano forms the small, forested 3.5 km wide Blup Blup Island ca. 30 km offshore from Cape Girgir on the East Sepik coastline of New Guinea. The closest town is Karau.
The andesitic-dacitic volcano contains a 800 m diameter summit crater filled by thick rainfores... [màs]
Boisa

(estratovolcán)

Boisa volcano forms a tiny island offshore from Bogia on the Madang coast. There are no known historical eruptions from Boisa volcano.
It is located only 10 km NW of Manam volcano, and it is a possible that Boisa belongs to the same volcanic edifice and is supplied by the s... [màs]
Crown Island

(Stratovolcano)

[màs]
Kadovar

(estratovolcán)

Kadovar volcano forms the tiny 2 km wide Kadovar Island, one of the Schouten Islands. It is located 25 km north of the mouth of the Sepik River on New Guinea.
The island is the submerged peak of a stratovolcano at the western end of the 1000 km long Bismarck volcanic arc. ... [màs]
Kairinu

(hot springs)

Kairini island is offshore from Wewak. The island is heavily vegetated and has no villages inland. The western part of the island is volcanic and there is a crater and hot springs at Victoria Bay. [màs]
Karkar

(estratovolcán)

Karkar volcano along with its neighbor Manam is one of Papua New Guinea's most active volcanoes. The volcano is located on Karkar Island off New Guinea's north coast 64 km north of Madang.
The forested Karkar Island is 25 km long and 19 km wide and cut by 2 nested summit c... [màs]
Long Island

(Volcán)

Long Island, located 136 km east of Madang in the Vitiaz Strait, consists of 2 adjacent partly collapsed steep-sided stratovolcanoes: Mount Reaumur in the north and Cerisy Peak in the south.
The central part of the complex contains a large 10x12.5 km caldera filled by a l... [màs]
Manam

(estratovolcán)

Manam volcano located 13 km off the northern coast of New Guinea near Bogia town is one of Papua New Guinea's most active volcanoes. It has one of the longest records of historic eruptions in the SE Pacific region. The larger eruptions of Manam produce pyroclastic flows and somet... [màs]
Ritter Island

(estratovolcán)

Ritter volcano is a very active basaltic-andesitic stratovolcano and forms the Ritter Island between Umboi and Sakar Islands in the Dampier Strait., ca. 9.5 km NE of Umboi Island and 21 km west of New Britain.
Present-day Ritter Island is the remnant of a larger island whi... [màs]
Sakar

(estratovolcán)

Sakar volcano forms the near circular 9.6 x 8 km Sakar Island 36 km west of Cape Gloucester on the west coast of New Britain, and 17.5 km NNE of Rooke Island. It is an andesitic stratovolcano with a 1.5 km wide summit crater containing a lake, and deeply cut flanks. The island i... [màs]
Tolokiwa

(Stratovolcano)

[màs]
Umboi

(Volcán)

Unboi Island is the largest of the volcanic Islands off the north coast of New Guinea. It is 50 km long and contains Umboi volcano, a mainly basaltic-andesitic complex of several overlapping stratovolcanoes.
The Umboi volcanic complex is cut by a large 13 x 17 km caldera wi... [màs]
unnamed

(submarine volcano)

A submarine volcano could exist NE of Karkar Island in the Bismarck Sea. 2 reports of submarine disturbances from 1944 and 1951 are the only evidence for a submarine volcano Island. The average sea floor depth in this area is 2000 m. [màs]
Viai

(Stratovolcano)

[màs]
Vokeo

(Stratovolcano)

[màs]
Yomba

(submarine volcano)

An unknown submarine volcano is included in the Global Volcanism's catalogue as active: Local legends tell that a volcano located in the position of Hankow Reef erupted 9-11 generations ago and then sunk.The story is found in oral traditions of many villages along the Madang coas... [màs]
Más en VolcanoDiscovery
If you find the website useful and would like to support us and help keep it alive and improve it, please consider
making a small donation
.
Thank you!
Volcanoes & Cultures
: The contrast between unspoiled rain-forest, coconut palm beaches, primitive culture and moon-like landscapes surrounding lava-spitting volcanoes could not be bigger: join us on an expedition to the two most active volcanoes of Vanuatu: Ambrym and Yasur.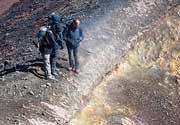 Private tours on Etna volcano
: Discover Europe's largest active volcano on private, guided 1-day tours. Tours can be customized for different interests and fitness levels.