Popocatepetl volcano news & eruption update
Popocatépetl Volcano Volcanic Ash Advisory: VA HAS DSIPTD.
dom, 25 oct 2020, 00:45
00:45 AM | POR: VN
Volcanic Ash Advisory Center Washington (VAAC) issued the following report:
FVXX22 at 00:39 UTC, 25/10/20 from KNES
VA ADVISORY
DTG: 20201025/0037Z
VAAC: WASHINGTON
VOLCANO: POPOCATEPETL 341090
PSN: N1901 W09837
AREA: MEXICO
SUMMIT ELEV: 17802 FT [5426 M]
ADVISORY NR: 2020/937
INFO SOURCE: GOES-EAST. WEB CAM.
ERUPTION DETAILS: VA HAS DSIPTD.
OBS VA DTG: 25/0026Z
OBS VA CLD: VA NOT IDENTIFIABLE FM SATELLITE DATA
FCST VA CLD +6HR: 25/0630Z NO VA EXP
FCST VA CLD +12HR: 25/1230Z NO VA EXP
FCST VA CLD +18HR: 25/1830Z NO VA EXP
RMK: VA FM EARLIER EMS HAS DSIPTD. NO VA NOW OBS
IN SAT. NO RECENT VA EMS OBS IN WEBCAM. ...CLARK
NXT ADVISORY: NO FURTHER ADVISORIES
Noticias Anteriores
Background:
Volcán Popocatépetl, whose name is the Aztec word for smoking mountain, towers to 5426 m 70 km SE of Mexico City to form North America's 2nd-highest volcano.  The glacier-clad stratovolcano contains a steep-walled, 250-450 m deep crater.  The generally symmetrical volcano is modified by the sharp-peaked Ventorrillo on the NW, a remnant of an earlier volcano. 
At least three previous major cones were destroyed by gravitational failure during the Pleistocene, producing massive debris-avalanche deposits covering broad areas south of the volcano.  The modern volcano was constructed to the south of the late-Pleistocene to Holocene El Fraile cone.  Three major plinian eruptions, the most recent of which took place about 800 AD, have occurred from Popocatépetl since the mid Holocene, accompanied by pyroclastic flows and voluminous lahars that swept basins below the volcano.  Frequent historical eruptions, first recorded in Aztec codices, have occurred since precolumbian time.
---
Source: GVP, Smithsonian Institution - Popocatepetl information
Más en VolcanoDiscovery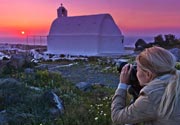 Photo Expeditions & Photography Tours
: We offer you a fine selection of photo tours to exceptional places guided by experienced photographers. These tours are ideal if you are interested in learning or improving photography or, if you are an experienced photographer yourself, to get to the best locations at the best times.
Etna volcano photos
: Etna - Europe's largest and most active volcano is a universe in itself. Browse through our collection spanning almost 20 years of eruptions and more.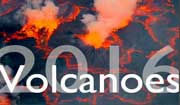 Volcano Calendar 2016
: We're proud to present our new volcano calendar 2016: 13 different and attractive images of volcanoes, volcanic landscapes and phenomena taken during volcano tours over the past few years.