Sinabung volcano
Last update:
25 Oct 2020 (pyroclastic flow)
Typical eruption style
: Explosivos
Erupciones del volcán Sinabung
: 2013-ongoing, 2010
Fecha / Hora
Revista / Profundidad
Distancia
Ubicación
Wed, 9 Sep 2020 (UTC)
Wed, 9 Sep 01:58 UTC
M 3.5 / 11 km
14 km
Northern Sumatra, Indonesia
Sinabung is a typical stratovolcano in northern Sumatra next to the town of Berastagi.
Background:
There are no confirmed historic eruptions before the re-awakening in August 2010, but possibly it has had activity in around 1600 and 1881.
It is evident that Sinabung volcano has frequently erupted on its flanks producing lava flows. Sinabung has four overlapping summit craters, where fumaroles have been active, particularly in 1912, but no eruption followed the increase of fumarolic activity then. The 4 summit craters are aligned along a N-S direction. The youngest crater of this andesitic-to-dacitic volcano is at the southern end of the four overlapping summit craters.
Flujo piroclástico en Volcán Sinabung, Sumatra, Indonesia (Oct de 2014) (Photo: Walter Reis)
Driving through volcanic ash rain at Sinabung volcano, Sumatra, Indonesia (Oct 2014) (Photo: Walter Reis)
Ashfall at Sinabung volcano, Sumatra, Indonesia (Oct 2014) (Photo: Walter Reis)
See also:
Sentinel hub
|
Landsat 8
Update Wed 22 Jul 16:59
Map of Sinabung volcano with the location of the 3, 4/5 and 7 km exclusion zones
Más en VolcanoDiscovery
If you find the website useful and would like to support us and help keep it alive and improve it, please consider
making a small donation
.
Thank you!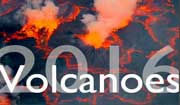 Volcano Calendar 2016
: We're proud to present our new volcano calendar 2016: 13 different and attractive images of volcanoes, volcanic landscapes and phenomena taken during volcano tours over the past few years.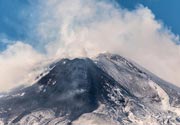 Etna trekking tour
: A tour entirely dedicated to Etna, the most active volcano in Europe. Spend 6 full days on Etna and get good chances to see eruptive activity.