Terremoto moderado mag. 4.8 - 42 km ESE of Esfarāyen, North Khorasan, Iran, domingo, 28 nov 2021 05:08 (Hora Tehran)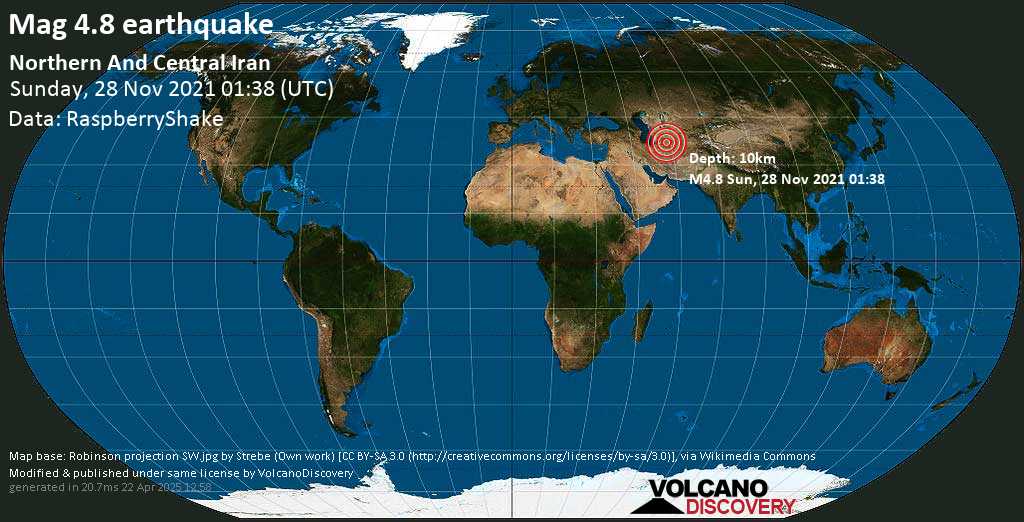 Terremoto moderado magnitud 4.8 a 10 km de profundidad
28 Nov 01:48 UTC: Primero en informar: RaspberryShake después de 10 minutos.
28 Nov 01:52: Ubicación del epicentro corregida 8.5 km (5.3 mi) al NNE.
Detalles del terremoto
Fecha y hora
28 Nov 2021 01:38:32 UTC
Hora local

en el epicentro

Domingo 28 nov 2021 05:08 (Asia/Tehran GMT +3:30)
Status
Confirmado
Magnitud
4.8
Prof.
10.0 km
Epicentro

latitud / longitud

36.8804°N / 57.9205°E North Khorasan, Irán
Antipode
36.8804°S / 122.08°W
Intensidad

del temblor

Temblor moderado cerca del epicentro
Sentido
0 informes
Fuente primaria de datos
RaspberryShake (RaspberryShake)
Tiempo en el epicentro

en el momento del sismo

Clear Sky 3.1°C (38 F), humidity: 68%, wind: 0 m/s (1 kts) from E
Energía sísmica

estimada liberada

1 x 1012 joules (278 MWh, equivalente a 239 toneladas de TNT) | about seismic energy
Lugares cercanos
Distance
Place
Max. shaking intensity(*)
Region
Country
42 km (26 mi)

NW del epicentro

Esfarāyen

(pop: 59,700)

North Khorasan
57 km (36 mi)

N del epicentro

Shīrvān

(pop: 82,800)

North Khorasan
58 km (36 mi)

NE del epicentro

Quchan

(pop: 111,800)

Razavi Khorasan
77 km (48 mi)

S del epicentro

Sabzevar

(pop: 226,200)

Razavi Khorasan
84 km (52 mi)

NW del epicentro

Bojnourd

(pop: 192,000)

North Khorasan
108 km (67 mi)

SE del epicentro

Nishapur

(pop: 220,900)

Razavi Khorasan
126 km (78 mi)

N del epicentro

Asjabad

(pop: 727,700)

Ashgabat

Turkmenistán

164 km (102 mi)

E del epicentro

Mashhad

(pop: 2,307,200)

Razavi Khorasan
597 km (371 mi)

W del epicentro

Teherán

(pop: 7,153,300)

Tehran
Notes:
(*) Intensidad del temblor según la Escala de Intensidad de Mercalli Modificada (MMI)
Comparar los datos del terremoto
Datos del mismo terremoto reportados por diferentes agencias
Cuantas más agencias informen sobre el mismo terremoto y publiquen datos similares, más confianza podrá tener en los datos. Normalmente, se necesitan unas pocas horas hasta que los parámetros del terremoto se calculan con una precisión casi óptima.
Mag
Depth
Time GMT
Epicenter
Agency
4.8
10 km (6.2 mi)

(*)

2021-11-28

01:38:32
Northern And Central Iran
RaspberryShake (RaspberryShake)
Notes:
(*) Una profundidad indicada de 10 km a menudo significa que la profundidad del terremoto no se pudo determinar con suficiente precisión.
Seismograms
Seismic station: Kabul, Afghanistan (KBL/IU network)
| Distance from quake: 1037 km / 644 mi |
Show on map
|
Station Info
Seismogram (vertical component) around time of quake. Thin dotted red line indicates time of quake. Seismic waves arrive some time later, depending on distance. Bandpass filter applied: 0.2-5.0 Hz. Source:
IRIS Buffer of Uniform Data (BUD) webtool
Informes de usuarios sobre este terremoto
There are no user reports for this quake.