Sismo muy débil mag. 2.4 - Antioquia, 242 km WNW of Bogota, Colombia, domingo, 23 ene 2022 18:22 (GMT -5) -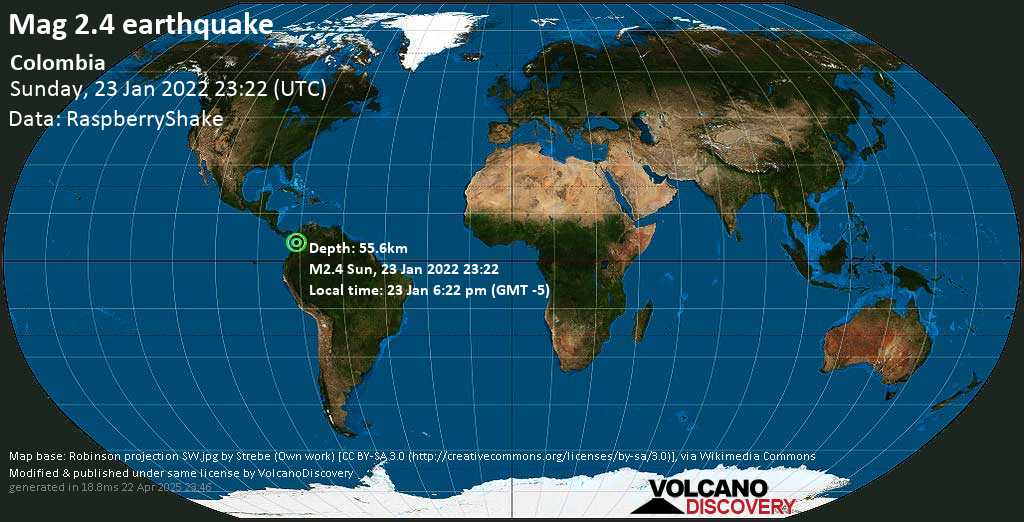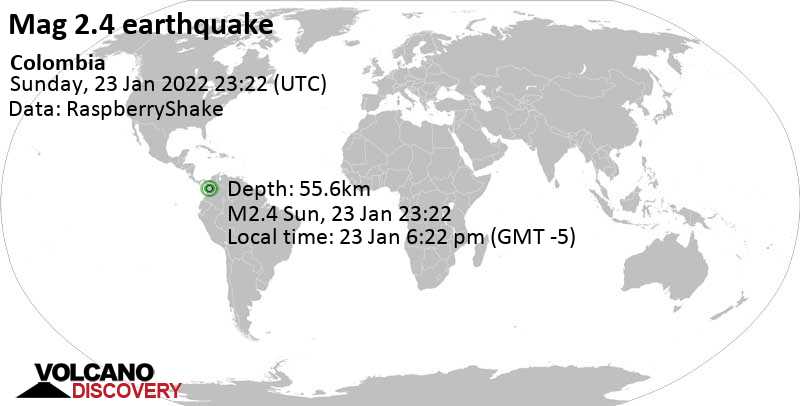 Sismo muy débil magnitud 2.4 a 56 km de profundidad
24 Jan 20:05 UTC: Primero en informar: RaspberryShake después de 21 horas.
Detalles del terremoto
Fecha y hora
23 Jan 2022 23:22:59 UTC -
Hora local

en el epicentro

domingo, 23 ene 2022 18:22 (GMT -5)
Status
Confirmado
Magnitud
2.4
Prof.
55.6 km
Epicentro

latitud / longitud

5.796°N / 75.908°W (Hispania, Antioquia, Colombia)
Antipode
5.796°S / 104.092°E
Intensidad

del temblor

No sentido
Fuente primaria de datos
RaspberryShake (RaspberryShake)
Volcán mas cercano
Romeral (89 km / 55 mi)
Lugares cercanos
63 km al SO de Medellín (Departamento de Antioquia) (pop: 2,000,000) |

En el mapa

| Sismos cercanos
242 km al ONO de Bogotá (Bogotá D.C.) (pop: 7,674,400) |

En el mapa

| Sismos cercanos
Energía sísmica

estimada liberada

2.5 x 108 joules (69.8 kWh) | about seismic energy
Data for the same earthquake reported by different agencies
Info: The more agencies report about the same quake and post similar data, the more confidence you can have in the data. It takes normally up to a few hours until earthquake parameters are calculated with near-optimum precision.
User reports for this quake
At magnitude 2.4, this quake might have been felt very close to the epicenter and under calm conditions.
There are no user reports for this quake.
Prueba nuestra aplicación gratuita!