Fuerte terremoto magnitud 5.2 - 44 km ESE of Xunchang, Sichuan, China, miércoles, 6 abr 2022 07:50 (GMT +8) -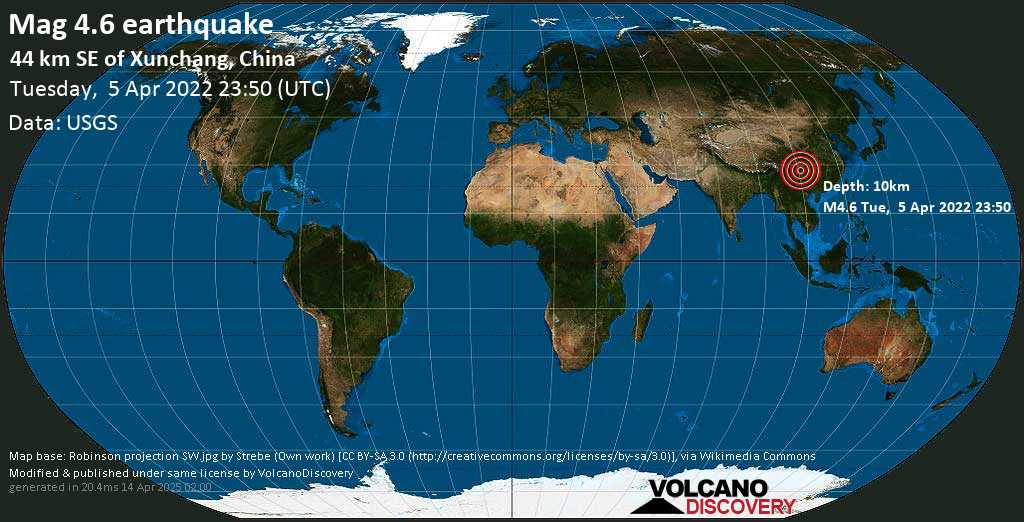 Fuerte terremoto magnitud 5.2 a 10 km de profundidad
5 Apr 23:58 UTC: Primero en informar: GFZ después de 9 minutos.
6 Apr 00:11: Ahora usando una nueva fuente de datos: USGS
Update Wed, 6 Apr 2022, 00:03
Magnitude 4.7 earthquake strikes near Xunchang, Sichuan, China
4.7 quake 6 Apr 7:50 am (GMT +8)
An earthquake of magnitude 4.7 occurred in the morning on Wednesday, April 6th, 2022, at 7:50 am local time near Xunchang, Sichuan, China, as reported by the German Research Centre for Geosciences (GFZ).
According to preliminary data, the quake was located at a shallow depth of 10 km. Shallow earthquakes are felt more strongly than deeper ones as they are closer to the surface. The exact magnitude, epicenter, and depth of the quake might be revised within the next few hours or minutes as seismologists review data and refine their calculations, or as other agencies issue their report.
Our monitoring service identified a second report from France's Réseau National de Surveillance Sismique (RéNaSS) which listed the quake at magnitude 5.1. Other agencies reporting the same quake include the citizen-seismograph network of RaspberryShake at magnitude 4.7, and the European-Mediterranean Seismological Centre (EMSC) at magnitude 5.3.
Based on the preliminary seismic data, the quake should not have caused any significant damage, but was probably felt by many people as light vibration in the area of the epicenter.
Weak shaking might have been felt in Xunchang (pop. 64,600) located 31 km from the epicenter, and Xuzhou Cheng (pop. 242,100) 65 km away.
Other towns or cities near the epicenter where the quake might have been felt as very weak shaking include Bijie (pop. 77,600) located 110 km from the epicenter.
VolcanoDiscovery will automatically update magnitude and depth if these change and follow up if other significant news about the quake become available. If you're in the area, please send us your experience through our reporting mechanism, either
online
or via
our mobile app
. This will help us provide more first-hand updates to anyone around the globe who wants to know more about this quake.
Detalles del terremoto
Fecha y hora
5 Apr 2022 23:50:06 UTC -
Hora local

en el epicentro

miércoles, 6 abr 2022 07:50 (GMT +8)
Status
Confirmado
Magnitud
5.2
Prof.
10.0 km
Epicentro

latitud / longitud

28.2341°N / 105.0889°E (Yibin Shi, Sichuan, China)
Antipode
28.234°S / 74.911°W
Intensidad

del temblor

Temblor débil
Sentido
1 informe
Fuente primaria de datos
USGS (United States Geological Survey)
Lugares cercanos
44 km al ESE de Xunchang (pop: 64,600) |

En el mapa

| Sismos cercanos
73 km al SE de Xuzhou Cheng (pop: 242,100) |

En el mapa

| Sismos cercanos
105 km al N de Bijie (Guizhou) (pop: 77,600) |

En el mapa

| Sismos cercanos
127 km al SSE de Zigong (pop: 1,262,100) |

En el mapa

| Sismos cercanos
147 km al SSO de Yongchuan (Chongqing) (pop: 94,500) |

En el mapa

| Sismos cercanos
150 km al S de Neijiang (pop: 546,900) |

En el mapa

| Sismos cercanos
164 km al SE de Luocheng (pop: 73,600) |

En el mapa

| Sismos cercanos
196 km al SE de Leshan (Province de Sichuan) (pop: 154,500) |

En el mapa

| Sismos cercanos
205 km al SO de Chongqing (pop: 7,457,600) |

En el mapa

| Sismos cercanos
288 km al SSE de Chengdú (pop: 13,568,400) |

En el mapa

| Sismos cercanos
Tiempo en el epicentro

en el momento del sismo

Overcast Clouds 10.9°C (52 F), humidity: 79%, wind: 0 m/s (1 kts) from W
Energía sísmica

estimada liberada

4 x 1012 joules (1.11 GWh, equivalente a 951 toneladas de TNT) | about seismic energy
Data for the same earthquake reported by different agencies
Info: The more agencies report about the same quake and post similar data, the more confidence you can have in the data. It takes normally up to a few hours until earthquake parameters are calculated with near-optimum precision.
| | | | |
| --- | --- | --- | --- |
| Revista | Prof. | Ubicación | Fuente |
| 5.2 | 10 km | 44 Km ESE of Xunchang, China | USGS |
| 5.2 | 33 km | 4.7 EASTERN SICHUAN, CHINA | EMSC |
| 5.2 | 10 km | Sichuan, China | RaspberryShake |
| 5.2 | 10 km | China: Near Chongqing | RENASS |
| 5.2 | 10 km | Sichuan, China | GFZ |
Seismograms
Seismic station: Po Shan, Hong Kong (HKPS/HK network)
| Distance from quake: 1125 km / 699 mi |
Show on map
|
Station Info
Seismogram (vertical component) around time of quake. Thin dotted red line indicates time of quake. Seismic waves arrive some time later, depending on distance. Source:
IRIS Buffer of Uniform Data (BUD) webtool
User reports for this quake (1)
Yibin / Weak shaking (MMI III) / horizontal (sideways) swinging / 2-5 s
Aftershocks
[Más info]
Réplicas registradas, las más recientes primero (1 en total)
Fecha y hora
Mag
Prof.
Ubicación
Detalles
6 abr 2022 21:54


hace 26 semanas

4.4


10 km
60 km E de Xunchang, Sichuan, China
Más