Sismo muy débil mag. 0.1 - 23 Km NW of Indian Springs, Nevada, martes, 9 ago 2022 23:07 (GMT -7) -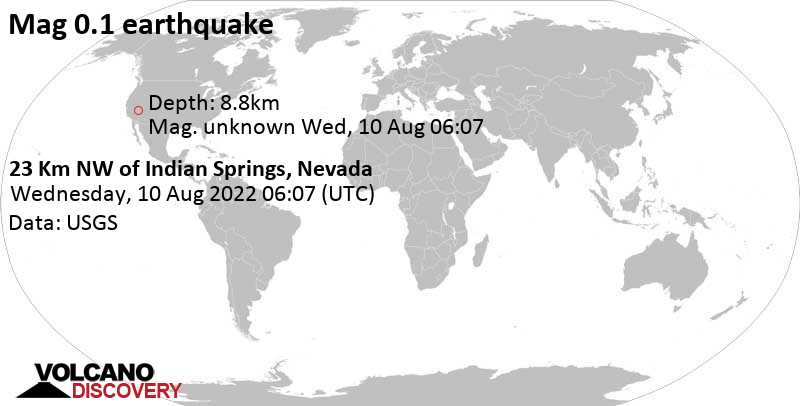 Sismo muy débil magnitud 0.1 a 8.8 km de profundidad
11 Aug 00:06 UTC: Primero en informar: USGS después de 18 horas.
11 Aug 00:08: Profundidad recalculada de 6.3 a 8.8 km (de 3.9 a 5.5 mi). Ubicación del epicentro corregida 2.5 km (1.6 mi) al NNE.
Data for the same earthquake reported by different agencies
Info: The more agencies report about the same quake and post similar data, the more confidence you can have in the data. It takes normally up to a few hours until earthquake parameters are calculated with near-optimum precision.
| | | | |
| --- | --- | --- | --- |
| Revista | Prof. | Ubicación | Fuente |
| 0.1 | 8.8 km | 23 Km NW of Indian Springs, Nevada | USGS |
| 0.1 | 8.8 km | California-Nevada Border Region | RaspberryShake |
Seismograms
Seismic station: Furnace Creek (FUR/CI network)
| Distance from quake: 97 km / 60 mi |
Show on map
|
Station Info
Seismogram (vertical component) around time of quake. Thin dotted red line indicates time of quake. Seismic waves arrive some time later, depending on distance. Source:
IRIS Buffer of Uniform Data (BUD) webtool