Sismo débil mag. 2.4 - 62 km NW of Christchurch, Canterbury, New Zealand, domingo, 2 oct 2022 23:38 (GMT +13) -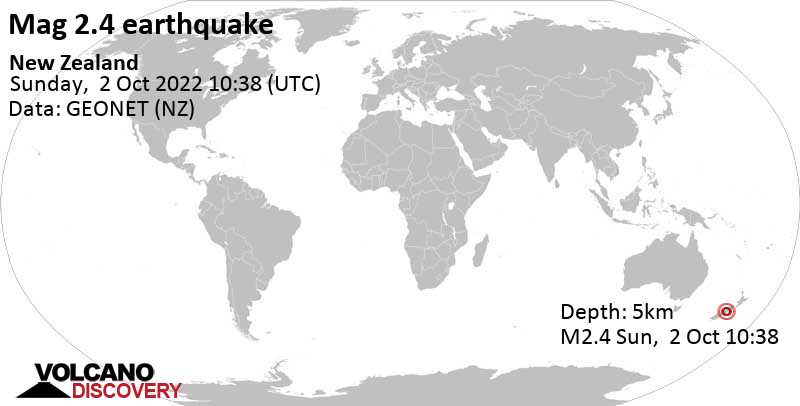 Sismo débil magnitud 2.4 a 5 km de profundidad
2 Oct 10:40 UTC: Primero en informar: GEONET (NZ) después de 1 minuto.
2 Oct 10:41: Magnitud recalculada de 2.3 a 2.4. Profundidad recalculada de 13.7 a 4.5 km (de 8.5 a 2.8 mi). Ubicación del epicentro corregida 2.8 km (1.7 mi) al NE.
2 Oct 10:47: Profundidad recalculada de 4.5 a 5.0 km (de 2.8 a 3.1 mi).
Detalles del terremoto
Fecha y hora
2 Oct 2022 10:38:44 UTC -
Hora local

en el epicentro

domingo, 2 oct 2022 23:38 (GMT +13)
Status
Confirmado
Magnitud
2.4
Prof.
5.0 km
Epicentro

latitud / longitud

43.19168°S / 172.03195°E (Waimakariri District, Región de Canterbury, Nueva Zelanda)
Antipode
43.192°N / 7.968°W
Intensidad

del temblor

Temblor débil cerca del epicentro
Sentido
0 informes
Fuente primaria de datos
GEONET (NZ) (Earthquake Commission and Geological Survey, New Zealand)
Lugares cercanos
17 km al NO de Oxford (Región de Canterbury) (pop: 1,780) |

En el mapa

| Sismos cercanos
33 km al NNO de Darfield (pop: 1,590) |

En el mapa

| Sismos cercanos
45 km al NO de West Melton (pop: 2,530) |

En el mapa

| Sismos cercanos
46 km al ONO de Rangiora (pop: 18,400) |

En el mapa

| Sismos cercanos
53 km al ONO de Kaiapoi (pop: 10,200) |

En el mapa

| Sismos cercanos
62 km al NO de Christchurch (pop: 363,900) |

En el mapa

| Sismos cercanos
82 km al NNE de Ashburton (pop: 30,100) |

En el mapa

| Sismos cercanos
310 km al SO de Wellington (pop: 381,900) |

En el mapa

| Sismos cercanos
Tiempo en el epicentro

en el momento del sismo

Overcast Clouds 0.3°C (33 F), humidity: 97%, wind: 1 m/s (2 kts) from NNW
Energía sísmica

estimada liberada

2.5 x 108 joules (69.8 kWh) | about seismic energy
Data for the same earthquake reported by different agencies
Info: The more agencies report about the same quake and post similar data, the more confidence you can have in the data. It takes normally up to a few hours until earthquake parameters are calculated with near-optimum precision.
Seismograms
Seismic station: South Karori, New Zealand (SNZO/IU network)
| Distance from quake: 304 km / 189 mi |
Show on map
|
Station Info
Seismogram (vertical component) around time of quake. Thin dotted red line indicates time of quake. Seismic waves arrive some time later, depending on distance. Bandpass filter applied: 0.5-10.0 Hz. Source:
IRIS Buffer of Uniform Data (BUD) webtool
User reports for this quake
At magnitude 2.4, this quake might have been felt very close to the epicenter and under calm conditions.
There are no user reports for this quake.