Socompa volcano books:
estratovolcán 6051 m / 19,852 ft
El norte de Chile, Bolivia y Argentina, América del sur, -24.4°S / -68.25°W
Más en VolcanoDiscovery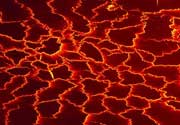 Nyiragongo volcano photos
: Nyiragongo (DR Congo) has the world's largest and most active lava lake. Enjoy our pictures taken during several expeditions over the past years.
Pearl of the Aegean
: Santorini is one of the most beautiful islands in the world. Discover its fascinating natural and cultural history on a relaxed walking study tour with us.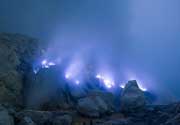 Ijen volcano photos
: Ijen volcano in East Java is famous for its turquoise acid crater lake and the large sulfur deposits that are being mined by local workers. At night, the scene is illuminated by ghostly blue flames, as sulfur ignites.