Tronador volcano
estratovolcán 3491 m / 11,453 ft, El sur de Chile y Argentina, América del sur, -41.16°S / -71.89°W
Cerca de terremotos recientes (dentro del radio de 30km):
Listado de sismos o temblores: Tuesday, 29 September 2020, magnitud -0.8 o superior
Actualizado: Wed, 28 Oct 08:08 UTC (GMT)
Filter by magnitude:
all
2.0+
3.0+
4.0+
5.0+
Listado de sismos o temblores
Fecha / Hora
Revista / Profundidad
Distancia
Ubicación
Mapa
Fuente
No hay terremotos recientes en nuestra base de datos
Earthquake statistics
Number of earthquakes vs time:
Magnitude distribution and energy released:
Más en VolcanoDiscovery
Photos from Italy
: Italy - the cradle of volcanology. Browse through various photo galleries mainly from its numerous volcanic areas - from Naples to Etna and the Eolian Islands and more.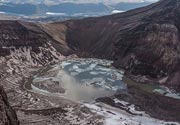 Gorely volcano photos
: Gorely is a young and very active shield volcano in southern Kamchatka. It is one of Kamchatka's easiest volcanoes to climb and offers stunning views into vast craters and the surrounding landscape.