Vesuvius volcano
Actualizado: 6 dic. 2022 12:54 GMT
-
Stratovolcano 1281 m
Italia, 40.82°N / 14.43°E
Current status: normal or dormant (1 out of 5)
Last update: 9 mar 2022 (occasional swarms of tiny earthquakes)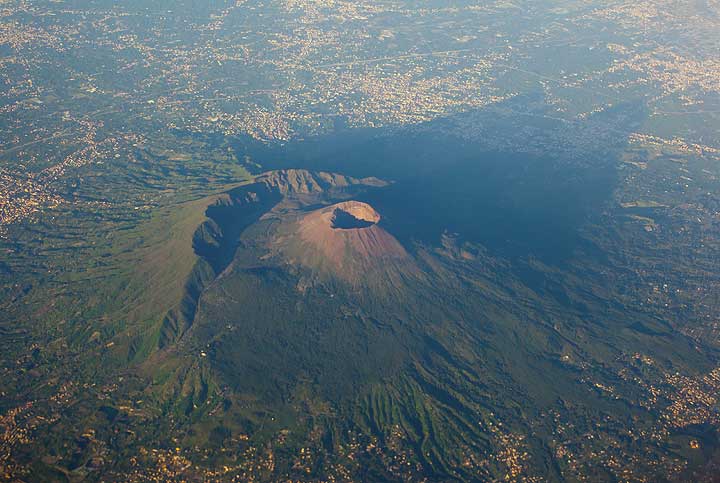 Vesuvius volcano near Naples, Italy, seen from the air. The rim of the remnant of the older Somma volcano which collapsed in the 79 AD Plinian eruption is clearly visible to the left of the new Cono Grande cone with its crater.
Typical eruption style:
Principalmente explosivos. Detallo, Vesubio tiene 4 tipos típicos de erupciones: 1. pliniana (como la erupción de Pompeya 79 D.C.): extremadamente grandes erupciones explosivas producen varios a varias decenas de km cúbicos de magma en un tiempo muy corto. 2. sub-plinianas erupciones explosivas (como la erupción de 1631). Son similares en estilo, pero más pequeño que el verdadero Plinian eventos. 3. tipo estromboliano y erupciones vulcaniana (varios ejemplos durante el período de 1631-1944, por ejemplo, 1906 y 1944). Estas erupciones producen caídas de tefra pesado local, pequeños flujos piroclásticos, así como fuentes de fuego grande y flujos de lava. 4. el tipo más pequeño, pero más frecuente de actividad observada en el Vesubio es persistente estromboliana a actividad estilo hawaiano que prevaleció durante gran parte del periodo entre 1631 y 1944. Esta actividad se limita generalmente al cráter central, y a veces al flanco respiraderos. Flujos de lava y fuentes de lava se han observado con frecuencia durante esos períodos de actividad.
Erupciones del volcán Vesuvius:
1796 - 1822, 1824 - 1834, 1835 - 1839, 1841 - 16 February 1850, 1854 - 1855, 1855 - 1861, 1864 - 1868, 1870 - 1872, 1875 - 1906, 1913 - 4 April 1944
Latest nearby earthquakes
Fecha / Hora
Revista / Prof.
Distancia/Ubicación
miércoles, 30 noviembre 2022 GMT (3 sismos)
30 nov 2022 03:35 (GMT +1)

(30 nov 2022 02:35 GMT)




2.0


1.4 km
23 km (14 mi)
4.4 km al oeste de Fuorigrotta, Napoles, Región de Campania, Italia
30 nov 2022 03:35 (GMT +1)

(30 nov 2022 02:35 GMT)




2.3


2.8 km
23 km (14 mi)
9.8 km al oeste de Nápoles, Napoles, Región de Campania, Italia
30 nov 2022 03:34 (GMT +1)

(30 nov 2022 02:34 GMT)




2.6


2 km
23 km (14 mi)
10.3 km al oeste de Nápoles, Napoles, Región de Campania, Italia
Background
Vesuvius ("Vesuvio" in Italian) is probably not only the most famous, but also one, if not the most dangerous volcano on Earth. The first eyewitness account of a volcanic eruption that has been preserved has come to us from Vesuvius: In 79 AD, after a century-long slumber, the volcano woke up with terrifying power in an eruption that buried several Roman towns like Pompeii and Herculaneum under several meters of ash. Today, parts of these cities have been excavated and are among the most remarkable archaeological sites of the world, allowing us to have an excellent view on Roman life and culture, where time and life had been frozen in a moment.

Geologically, Mt. Vesuvius, or more correctly the Somma-Vesuvius complex, is about 400,000 years old, as dating of lava sampled drilled from over 1,300 m depth have shown. Present-day Vesuvius is a medium-sized typical stratovolcano volcano reaching a height of 1,281 m a.s.l. It comprises the older volcano, the Somma, whose summit collapsed (likely during the 79 AD eruption), creating a caldera, and the younger volcano, Vesuvius, which since then has re-grown inside this caldera and formed a new cone. Although in a dormant phase at present, Vesuvius is an extremely active volcano and particular for its unusually varied style of activity: it ranges from Hawaiian-style emission of very liquid lava, extreme lava fountains, lava lakes and lava flows, over Strombolian and Vulcanian eruptions to violently explosive, Plinian eruptions that produce large pyroclastic flows.

When one thinks about Vesuvius volcano today, one aspect is eminent: due to the dense population surrounding it, and ever climbing higher and higher up on its slopes, it is certainly among Earth's most dangerous volcanoes. It is estimated that ore than 500,000 people live in the zone immediately threatened by a future eruption. When this happens is not known; it is possible that Vesuvius has entered into one of its typically century-long lasting phases of dormancy, but volcanoes can be unpredictable. The situation in the Gulf of Naples is further complicated by the presence of another highly active, and potentially as dangerous volcano: the Campi Flegrei, located immediately under a large part of the modern city of Naples proper.
Vesuvius Fotos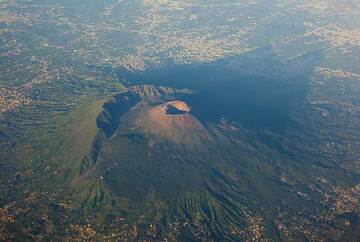 Volcán Vesubio cerca de Nápoles, Italia, visto desde el aire. El borde del remanente del volcán Somma mayor que se derrumbó en el 79 D.C. Plinia... (Photo: Tom Pfeiffer)...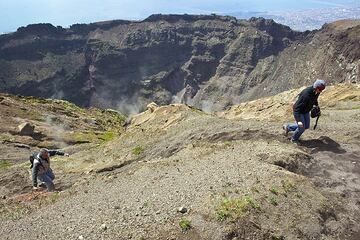 En el cráter del volcán Vesubio, con respiraderos humeantes en segundo plano. (Photo: Tom Pfeiffer)

Vesuvius volcano aerial (June 2017) (Photo: Martin Rietze)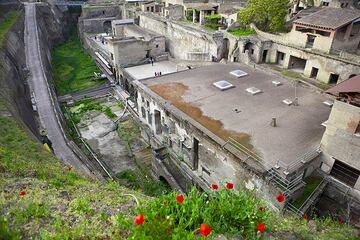 Las excavaciones de la ciudad romana de Ercolaneo enterradas por flujos piroclásticos del volcán Vesubio en la erupción del año 79. (Photo: Tom Pfeiffer)




See also: Sentinel hub | Landsat 8 | NASA FIRMS
Vesuvius Tour Volcán
15-day study & walking tour to Italy's volcanoes from Vesuvius to Etna
15 days (14 nights) - Easy to Moderate
Price 3890 €